We are visiting Elisa Pomar, the fifth generation of a family of Ibizan jewellers who have become an essential part of the island's tradition and culture.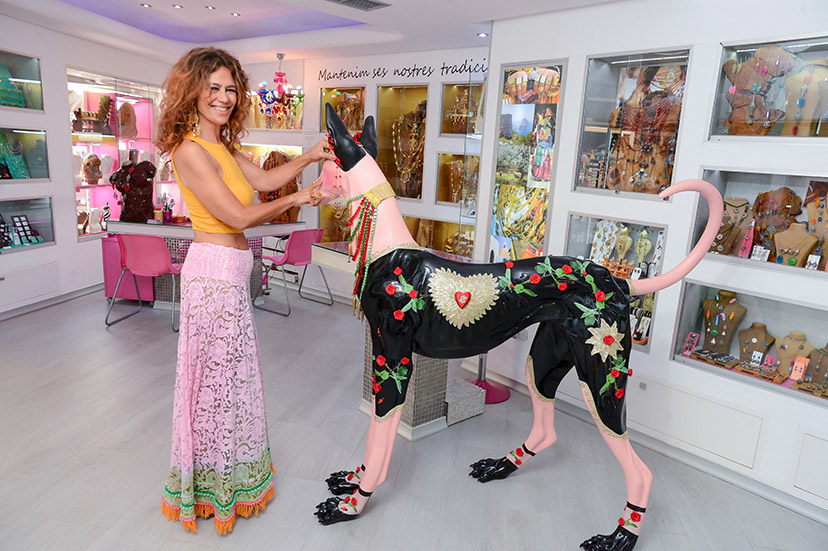 Elisa's first memories are of her father, a hard-working family man and jewellery designer, in turn the son of a great jeweller known as "the king's jeweller". This is how the great Pomar legacy began. A firm that has remained alive over time thanks to the love of art and tradition passed down from generation to generation.
Elisa Pomar is responsible for ensuring that the designs and creations of her predecessors continue to leave their mark on Ibiza today. We sit down with the creative director of this brand of the same name, who explains to us that, when she was just 6 years old, "I fell in love with the jewels that emerged from my father's hands". "He taught me to love art, to create, to develop, to live and to learn and, above all, to innovate and do things well", Elisa explains.
"When I really felt the need to create was at one of the hardest times of my life: the sudden death of my father". That made something inside Elisa change: "I had a very strong feeling of needing to transform all the sadness inside me into something beautiful". That's how the designer decided to perpetuate the family legacy by updating the traditional pieces dedicated to the patron saint festivities and the ballads of the folk groups into something new, something great, for herself and for Ibiza's heritage.
"I look into the past, but with a big mirror facing the future"
"Innovated tradition" is the concept that stands out most in the showcases of her renovated shop, which has been in the La Marina neighbourhood of Ibiza for 35 years. "You can't do what I've done without having a thorough knowledge of Ibiza's history and the feelings of its people, as well as a sincere respect", says the creator. After her father's death, Elisa wanted to pay tribute to his surname and focus tradition on the new generations: "growing up hurts, but you have to keep changing every day; if you don't adapt to the times you end up dying. That's why I always look into the past, but with a big mirror facing the future". With these new tools, Elisa saw the need to change customs and fashions: "I believe tradition has to be changed and adapted, but always with respect; in that way young people will also appreciate it and identify with it".
We take a closer look at the jewels that make up her collections and we soon understand why they are unique. "I don't like to compare myself with anyone, I always say that I have found an artistic activity that brings me happiness and fulfilment, which is why I design and work anywhere and at any time of the day", says the creator.
The convergence of tradition and modernity
If there is any item that Elisa Pomar is particularly proud of, it is her XXL earrings. She has a special affection for her earrings inspired by the Ibizan cross: "I think they are the most beautiful jewel in the world". As for the jewel the Ibizans love most, Elisa Pomar reveals that "the cross is what is most valued at a sentimental level, but what the locals buy most is the necklace, which is what really stands out most and covers the woman's chest".
Elisa describes the items that accompany the typical ball pagès (country dance) costume and explains enthusiastically that "the emprendada (typical Ibizan necklace) is pure Ibizan culture, it is full of history, it is the fusion of all the peoples that have formed part of Ibiza and have left a profound artistic impression". "But the essential part of the emprendada is the "jewel", which consists of a very large cross that is one of three pieces: bird, cross and crown, accompanied by three necklaces of rhombuses and an eight-strand necklace", she sums up. The aderezo (piece positioned over the heart) is placed on the left side and is another of the most important and meaningful parts for the country folk.
One example of a traditional custom that is still very popular today is the wearing of a variety of large rings on all the fingers. "They are unique items that represented the economic or emotional state of their owners; the country women wore three rings on each finger," explains Elisa.
Elisa Pomar's collections have become world famous and are now an essential part of both the events held on the island and the world's most prestigious fashion shows in New York, Paris and Milan, where her creations can be seen parading on the renowned Dolce & Gabbana catwalk.
However, she has not let her success go to her head, and says simply "I really like what I do and work non-stop, I'm lucky enough to live on Ibiza and for other designers or well-known faces to have taken interest in my product". However, one thing Elisa Pomar is certain about is that no matter how much demand she may have, "I would never industrialise my jewellery, it's not my style. In fact, I don't make any jewellery like that; I want my pieces to be unique, handmade, produced on Ibiza and made with all the care and attention they deserve".