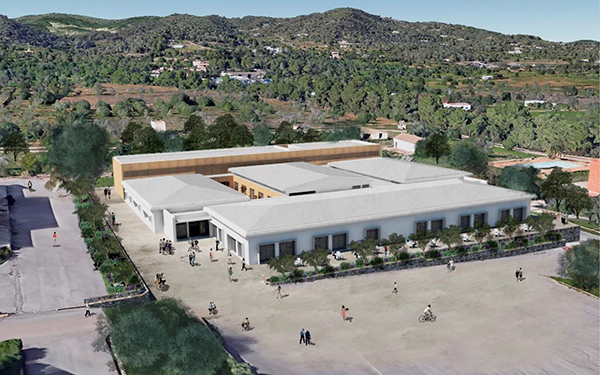 At Madrid's 2018 International Tourism Trade Fair, or FITUR, the Eivissa Council and the Govern Balear divulged plans for Ibiza's future college for students of the hospitality industry. Promising to be nothing short of a top gastronomic and culinary institute, the college will focus on national and international gastronomy and the culinary arts, as well as cultivating knowledge of local cuisine and tracking new trends.
Courses at the college will mirror the curricula of the hospitality college of the Balearic Islands: specialist cooking and catering (Especialista en Servicios de Cocina y Restauración) and specialist hotel management and marketing (Especialista en Alojamientos y Comercialización Hotelera), each a year-long course of study.
In addition to offering professional accreditation under the Spanish state employment service's catalogue of trades, the college will serve as a fulcrum for public outreach and lifelong learning.
The catering college will take up residence at sa Coma, the island's recently completed public services centre. The Eivissa Council acquired the decommissioned military barracks in 2010 and opted to repurpose them as a hub for services, equipment storage and learning. As part of the ongoing commitment to restoring and preserving existing buildings, the college will occupy the one-time barracks' cafeteria and kitchen.
Of 4,451 m2 in constructed space, restoration efforts will focus on a 2,592-m2 portion of the building.
When completed, the site will comprise a constructed area of 4,451 m2, of which, 2,592 m2 will have been repurposed from the original structure. Another 1,399 m2 will be new construction, and an additional 460 m2 will be dedicated to inner courtyards and terraces. The college will be distributed across two stories, with the ground floor occupying 3,459 m2 and the first floor taking up 712 m2. The building will be divided into multiple classrooms ranging in size from 78 m2 to 62 m2. Some standout features include a wine-tasting room, a cooking lab equipped for demonstrations, a 300 m2 restaurant space, a 150 m2 bar space, an assortment of offices and areas for teaching staff and, most importantly, a vast kitchen space of more than 800 m2.
Funding for the €9-million plus project, which must be completed in 18 months, will come from the Eivissa Council and the Balearic Islands' employment, trade and industry ministries. Half of the price tag will be covered with money from the so-called Sustainable Tourism Tax, a levy applied to visitors of the region.
Based on current forecasts, both approval for the plans and the start of construction should take place in 2018. Work is expected to be completed by 2019, putting the first day of classes at the Ibiza catering college somewhere in 2020.