"Love Ibiza" white isle awareness campaign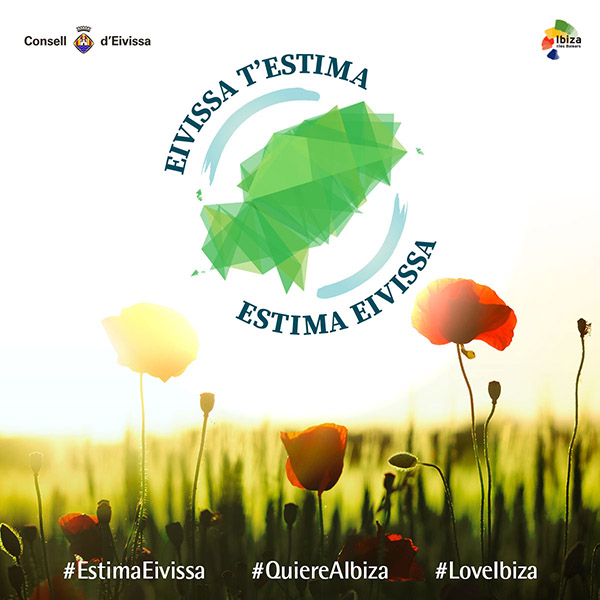 The tourism office of the Consell d'Eivissa has put in place a series of initiatives to promote sustainability and encourage responsible enjoyment of the island. A message to islanders and visitors alike, Love Ibiza aims to nurture the kind of environmentally-conscious action that "21st century tourism" is all about.
In an effort to combine tourism and sustainable development, the Consell d'Eivissa presents Love Ibiza, an initiative that seeks to reach tourists and local Ibizans about the importance of awareness, and proactive, civic-minded engagement wherever you are—at home, or on holiday.
Modelled on the UN's Sustainable Development Goals and World Tourism Organisation's goals for sustainable tourism, the campaign draws its strength from its participants, people who strive for awareness on issues like care and respect for the island. Doing your part may means having a green business, promoting responsible modes of tourism, or adopting a civically-conscious attitude. The idea is to engage with your community wherever you are, leading your own personal effort for respectful connections with the land, culture and people of Ibiza.
What are some of the goals?
Clean water, energy that is affordable and non-polluting, sustainable cities, responsible consumption and production, tackling climate change and sustainable use of our oceans and marine resources.
To give the effort wings, four well-known Ibiza personalities—chef David Reartes, environmentalist Hazel Morgan, musician Joan Barbé and athlete Ana Ferrer—appear in the campaign's video to describe what commitment to Ibiza looks like where they work.
Follow the #EstimaEivissa, #QuiereAIbiza and #LoveIbiza hashtags on Facebook, Instagram, Twitter and Youtube, (or email us at quiereaibiza@gmail.com) to get involved. You'll find out about new activities as the campaign grows, and, we hope, share with us some of your own ideas.
Consell d'Eivissa president Vicent Torres puts it simply: "Tourism is key for Ibiza's development. Given our survival depends on it, we must work towards finding ways to develop tourism sustainably. It's important that everybody—from islanders and visiting tourists to businesses, employees and, above all, the local administration—must grasp how crucial it is we protect our natural beauty and the sea, monuments and culture that make Ibiza special. It's our way of ensuring that 21st-century tourism is about giving something back, that it is respectful and tuned for sustainable relationships with the surroundings.
By doing tourism sustainably, and loving Ibiza, we're building our commitment to the white isle's future.
Check out:
https://ibiza.travel/quiereaibiza/
For further details: