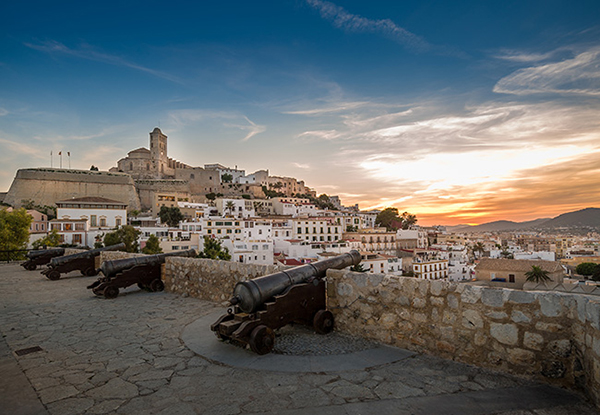 Ibiza is lined with hikes, trails for cyclists and recommended routes for families. At the other end, beaches, natural springs and other world-class monuments sit waiting. In fact, the island is packed with places to discover all year long.
As things cool off and temperatures settle at a cozy 20º C, now is the perfect time for outdoor activities. Whether you're traveling on foot or two wheels, municipal councils of the island have online maps available to help you get to know each area. Sant Josep de Sa Talaia, Sant Joan de Labritja, Sant Antoni de Portmany and Santa Eulària des Riu offer trails —ranked by difficulty, length and preferred method of locomotion— spotlighting local landmarks.
The trails are visitors' ticket to the never-ending cliff sides, deserted beaches, pine tree forests, whitewashed churches, lookout spots and historic sites that mark the other side of Ibiza. Some spots, open year round, are particularly suited for families. Take, for instance, the caves of Can Marçà or ses Llogostes. The first, holding watch over Sant Miquel port in Sant Joan de Labritja, dates back more than a hundred thousand years. It is also the site of a sound and water show that magically sets off the nearby geological formations. Cova de ses Llagostes, meanwhile, or Es Cap Blanc aquarium, is the scene of an effort to simultaneously save and showcase species native to the Mediterranean. In years past the building was used as a fish farm. Currently, though, its 370 square metres (m2) are home to grouper fish, lobster and sometimes even sea tortoises. The sea water undergoes a process of perpetual renewal, entering and exiting through multiple points around the caves.
Several interpretative centres across the island afford visitors a look at the day-to-day pursuits of Ibiza's inhabitants centuries ago. Es Amunts in the north is one such centre. It sits on 150m2 and contains a multitude of displays on the environment, geography and culture that characterised the island's 15,000-hectare mountainous region known as Tramuntana. A recreation of the area's natural surroundings, past and present, can be found at the centre's entrance. In Santa Eulària des Riu, an old country home occupied by Can Planetes interpretative centre offers visitors insight into life along the only river in the Balearics.
At the other tip of the island, Sa Capelleta interpretative centre takes guests on a tour of Ibiza under the Phoenicians, Romans and Muslims. Numerous archaeological sites provide a glimpse of the settlements of the cultures that have passed through Ibiza. For museum enthusiasts, the Madina Yabisa interpretative draws on audiovisual technology to teach visitors about the history of Ibiza Town, with particular focus given to Muslim reign on the island and a neighbouring Arab fort. The interpretation and welcome centre at Ibiza and Formentera's Ses Salines nature preserve is an invitation to explore the 3,000 ha on land and 13,000 ha at sea that comprise the site. A designated nature preserve since 2001, Ses Salines is home to an extensive variety of Mediterranean biodiversity, with 178 species of plants and more than 210 birds on display.
There you have it. A brief look at everything Ibiza offers all year long. Don't miss the beauty, culture and traditions of Ibiza this winter.