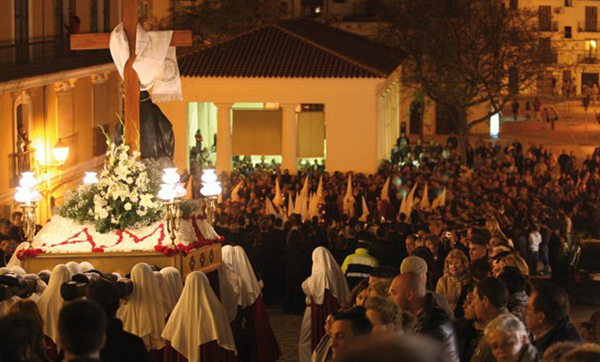 This year Holy Week ("Semana Santa"in Spanish) begins 25 March with Palm Sunday and comes to an official close 1 April, on Resurrection Sunday. It is a rare opportunity to discover the other Ibiza and take a deep dive into centuries-old Spanish culture.
Every year, the seven cofradías ("brotherhoods") piece together a full programme to observe the Easter holiday. First up is a procesión known as Viernes de Dolores (Friday of Sorrows in the English-speaking world), for which revellers set out from the Ibiza Cathedral on a meandering itinerary across Dalt Vila. Lovers of tradition can't miss Domingo de Ramos (Palm Sunday), among the more important routes of the week. It starts at Sant Elm church, in the heart of La Marina, and concludes in Dalt Vila's Santo Domingo church. Following an itinerary across the most iconic sights on the island, the procession stirs the hearts of faithful revellers and holidaymakers alike.
Lunes Santo (Holy Monday) unfolds at Santo Domingo church and is another red-letter day for anyone keen to get the Ibiza Easter experience. Tuesday's festivities (Martes Santo) happen in the Ibiza Cathedral, and Wednesday's Miércoles Santo —a day the faithful worship their lord Jesus— is marked by blessings of the palms at Parque de la Paz. Wednesday also comes with another tradition, a showing of reverence called besamanos which, though literally translatable as "hand-kissing", is actually more akin to the act of touching one's forelock. Besamanos can be observed in the Rosario church, headquarters of the local brotherhood of the same name.
Thursday's celebrations serve as tribute to Rosario de la Aurora. They entail a procession that begins at Santa Cruz church and ends at the Ibiza Cathedral. Holy Friday is about honouring the so-called santo entierro, when Christ's remains were laid to rest. The procession is attended by all the brotherhoods of the island. Thursday and Friday are also observed by faithful revellers at the church of Santa Eulària. There, as well, processions are scheduled on both days. Lastly, Holy Saturday brings with it Via Crucis (Way of the Cross), which unfolds on the same route from Santa Cruz church to the Ibiza Cathedral. Another common tradition during this part of Easter week is known locally as fer cases santes ("making sacred homes"). Beginning at the close of Holy Thursday celebrations, the faithful perform worship of their lord until mass starts the following day. Assorted flowers, food, young flour sprouts adorn altars and convert churches into veritable monuments of colour.
Each procession is specially tailored to encourage participants to engage in the passion and devotion that mark these days. They are the perfect occasion to discover the traditional side of Ibiza.