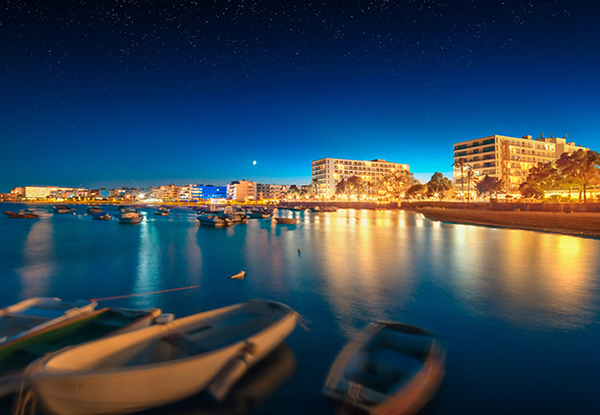 Ibiza is a city abuzz with activity all year long. Hence the Eivissa Council's decision to put together a fresh marketing plan that will serve as a framework for the island in the years to come. A string of working days will bring together stakeholders from related island industries, saving an important place for the voice of Ibiza's visitors.
Tourism on Ibiza has been marked by a steady expansion beyond the traditional summer season, due in part to Ibiza's signature mild temperatures (the year-round local average hovers 3º C above neighbouring islands') and partly to the breadth of options it enfolds.
The Ibiza name carries with it prestigious renown, here at home and overseas. The island is one of the few places on earth with four different World Heritage sites: Sa Caleta archaeological site, Puig des Molins necropolis, the historic walled centre of Dalt Vila and the island's vast underwater meadows of Posidonia oceanica. Culture is a key part of encouraging tourism throughout the year. Some fifty local museums and art galleries remain open through winter as venues for far-flung world artists. Included among them are the MACE museum of contemporary art in Ibiza's historic central district, the museum of archaeology of Dalt Vila, Puig des Molins's Necrópolis Púnica, an ethnographic museum in the town of Santa Eulària des Riu, and La Nave Salinas, an exposition space set against the nature preserve that spans the divide between Eivissa and Formentera.
A vast assortment of year-round options await the tourist keen on nature and the outdoors. First off, there are the already-mentioned former salterns of ses Salines, Ibiza's sole economic driver for centuries. Other treasured gems are the island's 475-metre apex at sa Talaia and the breathtaking agrarian landscapes of Es Broll de Buscatell, whose terraces, dykes, canals and bathing pools are lingering reminders of the island's Muslim past.
Ibiza also grabs headlines as the perfect choice for business travel. Spain is a global force for MICE tourism, and Ibiza's arsenal of venues, both large and small, puts it in a league with cities like Madrid and Barcelona.
Moreover, a wide array of dining and accommodation options remain in place after summer's end. Many businesses forgo closing in order to capitalise on the emerging winter market. That growth is partly due to Ibiza's long list of domestic and international connections by air. The island's airport boasts direct flights to Madrid, Barcelona, Valencia, Alicante, Sevilla, Palma de Mallorca and Malaga. Airlines offer weekly connections to overseas destinations like London, Eindhoven, Milan, Geneva, Paris and Amsterdam.
Ibiza offers a breadth of services that allows it to stretch the traditional summer season to cover the 365-day calendar. That is the idea behind the new marketing strategy: on an island full of surprises, unknowns and mysticism, travellers of all stripes can get exactly what they want.
365 days, each one different, each with a new way to enjoy an island that is at once well known and shrouded in mystery.