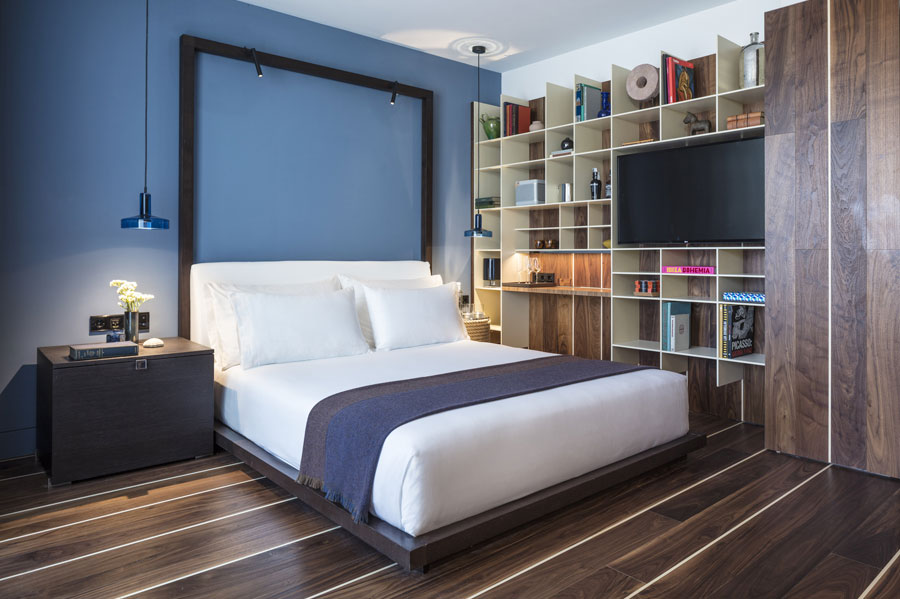 The list is long of Ibiza hotels open post-summer for that special class of visitor whose dream holiday is about relaxing, ducking the din of high-season crowds and finding the real essence of Ibiza. The island is home to untold gems —towns that make up for in charm what they lack in size, long-standing local haunts heavy on flavour and vitality— and autumn is when you can expect a countless succession of activities. So enjoy the island's untouched outdoors, its culture, world-class museums, fine-dining delicacies, walks on the beach with the crisp autumn breeze off the sea, and a multitude of open-air sporting events tailor-made for Ibiza's mild temperatures and stunning surroundings.
Want the full autumn Ibiza experience? First you'll need to know which hotels stay open in winter. Whether five-star or two-star, an agritourism estate, a boutique hotel or a charming inn, there is something that's just right for you and your wallet. So, what sounds good?
If you'd like accommodation in the island's tourist command central, head to the municipality of Eivissa. Loaded with shops and restaurants and within walking distance of the historical centre, it is also where you'll find a welter of hotels and inns to put up for the night.
Talamanca – Marina Botafoch leisure port

: Hotel Pacha, Hotel Simbad, Hotel Lux Isla, Hotel Ocean Drive, Hotel Sir Joan, Hostal Talamanca and Casa Franciska.
Dalt Vila

: Hotel La Ventana
Ibiza centre

: Gran Hotel Montesol Ibiza, Hotel Royal Plaza, Apartamentos El Puerto, Hostal Europa Púnico, Hostal Ibiza, Hostal el Parque, Hostal Abad y Lasierra and Hotel Vara de Rey.
Ses Figueretes – Los Molinos

: Hotel Los Molinos, Hotel Marítimo and Apartamentos Llobet All.
If you prefer something more secluded and want the full effect of Ibizan charm, the magical municipality of Sant Josep de sa Talaia is the place to go for routinely spectacular sunsets:
Outer Sant Josep de sa Talaia

: Club Cala d'Or.
Sant Antoni bay

: Azuline Hotel Bergantín, Hotel Azuline Mar Amantis I, Hotel Puchet, Apartamentos Vista al Puerto and Apartamentos Mego.
Sant Antoni de Portmany. Formerly the stomping grounds of peasant farmers and fishermen, this municipality is today one of the island's top tourist hangouts. Acclaimed for its sunsets and incredible beaches:
Sant Antoni centre

: Azuline Hotel Pacific, Hostal Marí, Hostal Adelino, Hostal Balearic, Hostal Marino and Apartamentos Tramuntana.
Outer Sant Antoni

: Hostal La Torre, Bungalows Vistabella, Agroturismo Cas Gasi, Agroturismo Can Pujolet and Can Partit country inn.
As municipalities go, Sant Joan de Labritja might be one of Ibiza's smartest. The town's main road is a local rarity in that it conserves the original urban layout. There are packed like sardines, plus a handful of bars and cafés to accompany the smattering of shops. Here, in the natural stillness of northern Ibiza, peace is in the air.
Portinatx

: Apartamentos Del Rey II and III and Apartamentos Es Grop.
Sant Joan centre

: Hostal Ses Arcades.
Outer Sant Joan

: Agroturismo Atzaró and Agroturismo Ca sa Vilda Marge.
Among northern Ibiza's municipalities, Santa Eulària des Riu, with its mighty catalogue of heritage sites, is the largest. There is magic in the streets here, and lookout spots provide bird's-eye views of the entire town. Go ahead, have a peek at its history.
Santa Eulària centre

: Apartamentos Duquesa Playa, Invisa Hotel La Cala, Hostal Mayol, Hostal Santa Eulalia, Hostal Sa Rota and Hostal Parot Quality.
S'Argamassa – Cala Martina – Es Niu Blau

: Apartamentos Acora Ibiza.
Es Canar – Cala Nova

: Azuline Hotel Coral Beach and Hostal Sofía.
Outer Santa Eulària

: Agroturismo Can Curreu and Agroturismo Morna.
Prefer something a bit more private with more of a personal touch? There are also accredited holiday homes for rent on the island:
Sant Josep de sa Talaia:

Can Bernadet, Can Petrus, Can Vinyeta and Buenavista.
Sant Antoni de Portmany:

Dalt Bella.
Sant Joan de Labritja:

Miguel de Balansat and Fata Morgana.
Santa Eulària des Riu:

Can Jaume de Dalt, Las Flores and la Villa Duo.
Other villas: Can Fluxà, Villa Neus, Guerxonet, Bossa Nova, Villa Ludovico, Stone, Diamond and La Ermita.