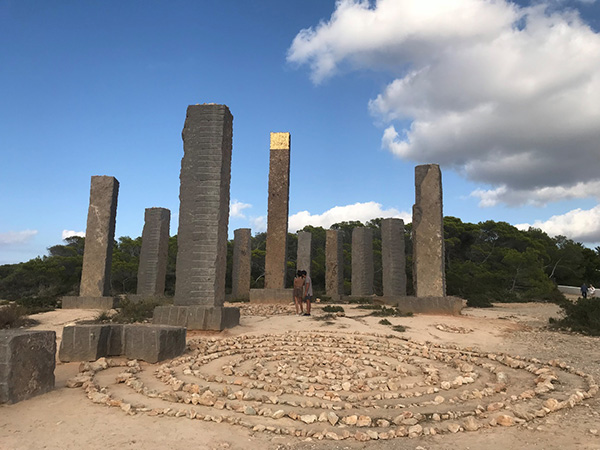 We haven't yet seen the last of bank holidays in 2017. So make your getaway now, and discover Ibiza with all five of your senses. A visit to one of the island's incredible calas, or coves, is basically a must. We'd recommend Sa Caleta, Cala Salada, Cala Xarraca, Cala Llenya and ses Salines. Not only are current mild temperatures perfect for enjoying the outdoors, but now is also when you'll be able to escape the summer crowds at beaches.
Ibiza offers residents and tourists alike plenty of ways to enjoy a bit of time off, like the winter initiative 'Ibiza Sabor'. From 20 October to 10 December, fans of fine dining can sample the signature products of Ibiza's diverse municipalities. The culinary tour gives participants the chance to taste exclusive island flavours, plus get the scoop on the traditions behind each dish. Fine dining devotees can try iconic hometown recipes like sofrit pagès, bullit de peix, flaó and greixonera, or taste the latest in Ibizan gastronomy, which, whatever happens, maintains its authenticity. Participating restaurants offer guests €7 tapas with local wines, and €25 specials with dishes to showcase choice local ingredients like almonds, carob, sobrassada and Peix Nostrum-certified fish.
After good food, your best bet on Ibiza is good fun. Consider, for instance, a visit of Teatro Pereyra, known for top-notch nightly performances and no cover charge. Whether you fancy jazz, funk, soul, blues, rock or latin rhythms, expect dancing and good music. Visitors to the theatre describe it as a one of a kind place with character, with lineups ranging from top performers to stand-up comedians promising unforgettable laughs.
If you choose a holiday weekend for your Ibiza getaway, one thing you won't want to miss is Dalt Vila, the historic centre of Ibiza Town and a designated World Heritage site. The singular spot on the island is also the scene of theatrical visits every Saturday at 7.00pm. You'll see what life was like during the construction of the renaissance fort and get a feel for the inner workings of Ibiza's bygone society. For tourists, admission is €10 for adults, €5 for youth aged 7-16, and free for children under 7. Adult residents of the island pay €5, and youth, €2.50.
Looking for the perfect way to spend a day-off? Head to an authentic Ibiza home, Can Botino, on carrer de Pere Tur. The 17th-century structure, erected by Genoese builders during the Renaissance, has three floors. It is bordered on three sides by public streets; the fourth wall overlooks a garden to the west. Can Botino is one of precious few impeccably preserved buildings on the island. It is also open to residents and tourists and today holds the seat of Ibiza Town's municipal government.
We've talked about a few of the things you can do on a wintertime Ibiza getaway, but there are many we haven't mentioned. You'll have to come to the island to discover the rest.