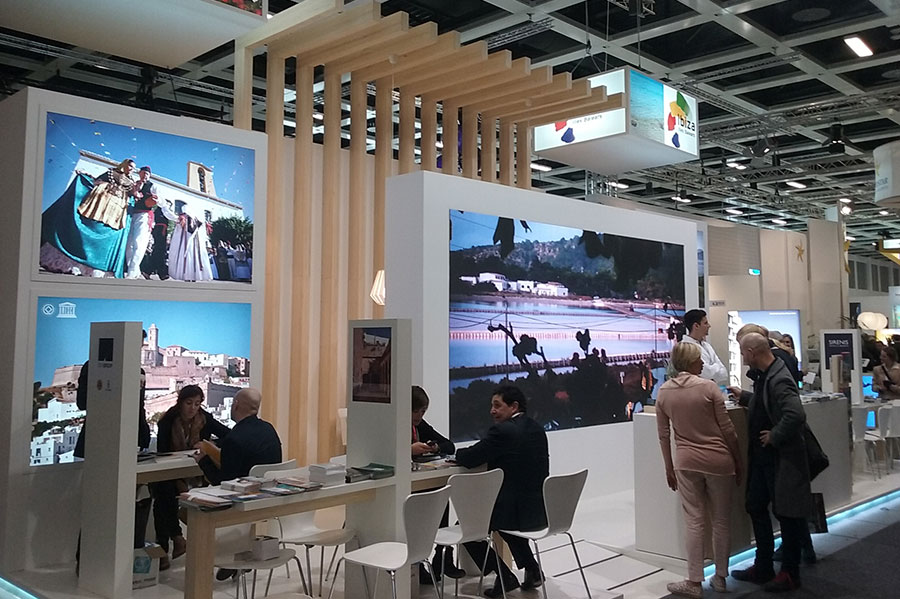 Summer's end marks the start of a new season on the island: pan-European tourism promotion. Join the Eivissa Council and Ibiza Travel as we set off on a winter-long tour of Europe's different trade shows.
First up is Frankfurt, where we'll head to a tourism expo for German travellers. As every year, the tour operators at Thomas Cook will give the crowd of travel trade professionals a look at their 2018 catalogue. On 6 November, when London's World Travel Market, one of world tourism fairs' headline events, lifts off, we'll be there to excite interest about our island's signature attractions. It is a gathering of the world's premier tour operators and travel trade experts, and despite being essentially a travel exhibition for the British, London represents a direct line to all destinations. The show is immensely popular among Ibizans, and each year marks an opportunity to share the latest strategies in tourism promotion.
On 9 November all eyes are on DER TOURISTIK. This year the tour operator turns one hundred, and to celebrate it, they're heading to Disneyland Paris. The company is a heavy-hitter in family tourism on the island. Here too, audiences will be given a taste of this year's catalogue, after which, hotel representatives and travel and tourism industry operatives will share their newest features for the season ahead.
Incentives and events tourism, too, is crucial for the island. So on 28 November, in Ibiza Travel and Consell d'Eivissa's first partner event, the IBTM in Barcelona will serve as a rallying point for professionals in MICE travel. It is also the first workshop that offers a peek at trends on the horizon for the year ahead. The Palau de Congressos, the Formentera and Eivissa fair ground (FECOEV) and a host of local hotels, events firms and businesses in the leisure industry will be on hand to extol in unison the island's attributes as a destination for conventions and businesses gatherings.
Further down the road, Cannes will once again be on display as the world's most exclusive destination with the ILTM, a trade show exclusively tailored for luxury tourism. Expect the leading brands, the premier tour operators and the choicest offers. It is an inspiring expo that will have fairgoers seeing stars as they imagine the vast possibilities that Ibiza will mean for their clients.
The trade fair season picks up in Warsaw with a presentation from TUI Poland on 17 November. This tour operator is also another key player in family tourism.
The meetings and workshops season got under way as September wound to a close, with Calella's craft and tourism expo for Spanish travellers and the TOP Resa in Paris for French markets. In Rimini, Italy, October was marked by the arrival of TTG Incontri, the country's most important trade fair, from 12th to the 14th. It began 26 November and followed Barcelona's Salón Náutico. We'll see you there!