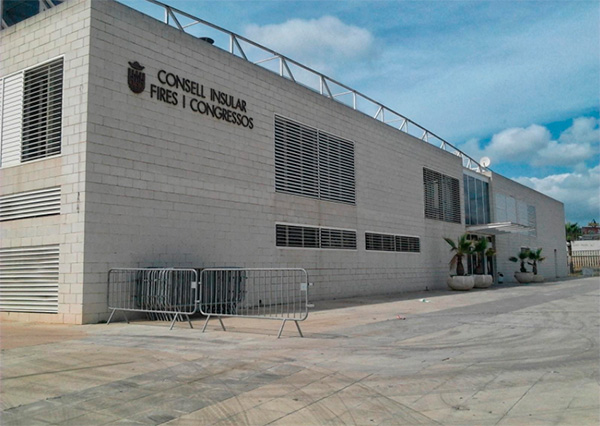 Every year more than 3.5 million tourists flock to Ibiza lured by the island's magic, its attractions, landscapes and breadth of options. The island's tourism industry, in steady yearly expansion, relies on a constantly evolving understanding of how to meet the demand that drives that industry. Thus, fully aware of the island's potential and forward-moving momentum, the Eivissa Council has modernised and expanded the administration's venue for trade shows, conferences and events in a sign of its commitment to promoting events at the local, regional, national and international level.
FECOEV, the fair facilities of Eivissa and Formentera, hosts concerts, exhibitions and other happenings that range from socioeconomic and cultural to sports-related. The more than 10,000-square-metre space has capacity for upwards of 1,600 people. Strategically located 500 metres from Ibiza Town, the fair facilities are just 14 kilometres from the island's convention centre, Palau de Congressos, and less than ten minutes from the airport and can be easily accessed via central thoroughfares.
Aside from vast capacity, FECOEV offers comprehensive consulting for events—developing, planning and coordinating events to host on site. Their long history organising trade shows —sectoral or multi-sectoral— is a plus, too, as is the FECOEV's experience hosting official government gatherings, conventions, conferences, concerts, fashion shows, product launches, furniture rental and catering.
The people of FECOEV know how important constant innovation is. A recent expansion of the facilities cemented FECOEV's catalogue of conference spaces. Just look at the new, 300-capacity hall, which, when split in two, is transformed into two halls of 140-person capacity. The hall also has a big screen for video conferences. In all, the facility can accommodate three conferences or meetings simultaneously. The halls are also suited for catered events and exhibitions. A 3,400-square-metre warehouse space and a 1,750-square-metre festival tent are available as well, both of which are fully equipped with modern amenities.
Events hosted at the fair this year have included the first Feria Outlet, a trade show of the textile, home and accessories industry; the seventeenth edition of a used-car expo (Salón del Vehículo de Ocasión) and the tenth Feria de la Cerveza, or "Beer Expo".
Looking ahead, during the first quarter of 2018, FECOEV will host the world launch of the latest model of Mercedes-Benz, an event that will entail the full use of fair facilities for a plethora of activities, both commercial and educational in nature. Turnout is expected to top fourteen thousand. Visitors from 50 countries will be placed into 37 groups of 380 people each and participants will be put up in the Palladium and Ushuaïa of Platja d'en Bossa, a ten minute ride from the fair facilities. Like no other space on the island, Ibiza's Recinto Ferial is the perfect venue for private and public companies to host sprawling shows, conferences and seminars. The fair is also appropriate for business travel as well, an increasingly important industry given Ibiza's potential as a year-round destination.