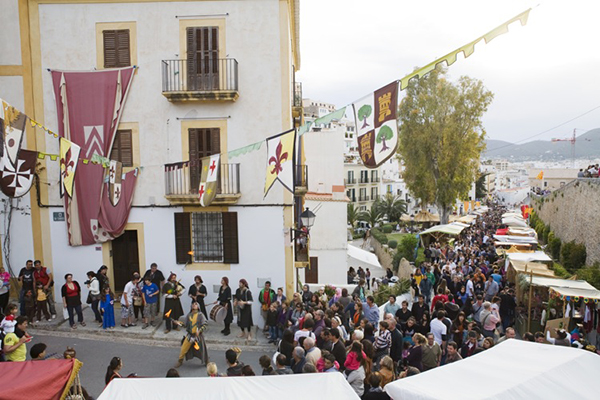 Ibiza plays host to a vast array of year-round programming, and in 2018, the island's calendar of events encompasses culture, history and fitness.
Highlights include the Fira d'Artesania (Craft Market) set for 18 February at Puig de Missa, an iconic enclave in the breathtakingly beautiful municipality of Santa Eulària des Riu. With upwards of 50 artisans from the island and abroad, the Fira is the place for entirely authentic fair-trade and locally-produced creations.
Then, 6 April to 27 May, it's time for the autumn round of #IbizaSabor18. The gastronomy series became a local favourite by cultivating an interest among Ibizans and tourists alike in the island's traditional cuisine. New spins on already well-known recipes will feature heavily at #IbizaSabor18, giving food fans insight into the origin and essence of the island. Another space will be dedicated to cutting-edge creations made with local produce. The series will additionally offer guided visits, workshops and discussions for all-audiences. Take, for instance, the Mediterranean Gastronomy Forum on 14 May. The event will bring together chefs from the local and national scenes and local growers.
Another show-stealer is Ibiza Medieval, a medieval market which will take over Dalt Vila and La Marina from 10-13 May and offers visitors the chance to enjoy artisan crafts, live music and all manner of performances by merchants, nobles, dancers and jugglers.
Among the other hits on the Ibiza calendar is a music festival called Sueños de Libertad. This year, when the festival opens on 17 May, it will be with a brand-new look. For three days until the 19th, Spanish musicians will be joined by international performers in giving world-class concerts that promise to be heavy on art and gastronomy.
This year's diversity of events includes fairs, festivals, patron saint commemorations, musical initiatives, plus gastronomy-, cinema- and performing arts-themed activities like Ibiza Gay Pride 2018, Eivissa Jazz Festival, the Day of the Tourist, Pasarela Adlib 2018, Ibiza Light Festival and la Feria de la Sal, the island's celebration of its most savoury export: salt.