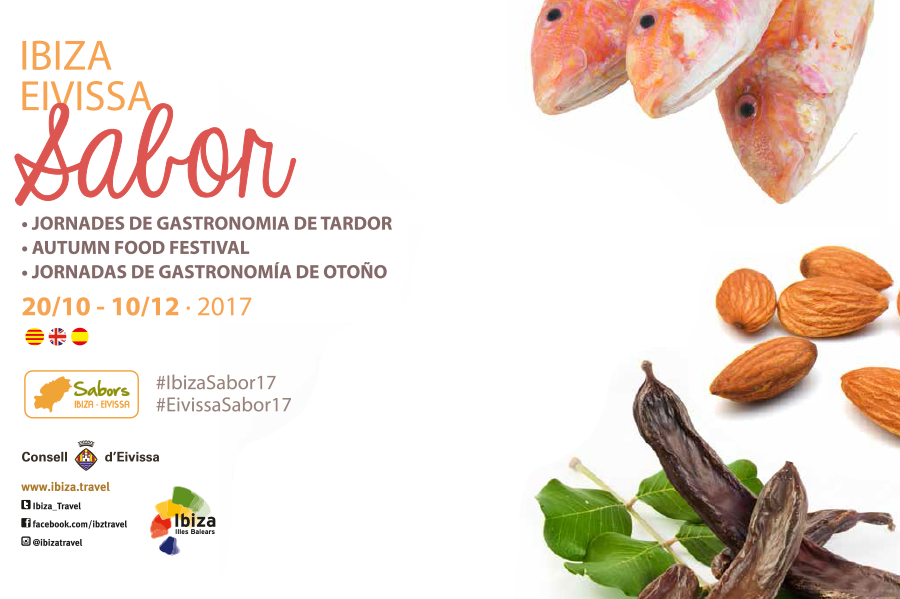 40 restaurants participate in this autumn's Days of Gastronomy #IbizaSabor
The Consell d"Eivissa (Island Council) in collaboration with Pimeef have launched this autumn's Days of Gastronomy #IbizaSabor17, which will run from 16th October to 10th December.
Now in its sixth season, the Days of Gastronomy, which are held twice every year – once in the spring (from mid-April to the end of May) and once in the autumn (from mid-October to early December) – give us a wonderful opportunity to experience the real Ibiza. Despite the fact that Ibiza is known globally, its gastronomy and the extraordinary wealth of its local produce constitute, even today, a world waiting to be discovered.
These days offer us the chance to try tapas for 7 euros (served with a glass of local wine) and menus for 25 euros (drinks not included). A wide variety of dishes are available, all using 0-kilometre products linked to the traditions, culture and landscape of Ibiza. Some of the top featured ingredients include almonds, carob, sausages, fresh fish with the guarantee of Peix Nostrum, extra virgin olive oil and much more. This is an event for lovers of fine dining, in which the island's most emblematic cuisine takes centre stage. Dishes such as "sofrit pagès" (meat stew), "bullit de peix" (stewed fish) and "flaó" (cheesecake) appear both in their traditional forms as well as in more modern and exciting renditions. These developments show that the gastronomy of Ibiza is moving on its own unique path as it seeks quality and authenticity, the basis of which rests on the first rate produce the island provides.
With the inducement of the mild weather typical of the season, autumn is indeed a prime time to get out and enjoy the scenery, whether at a seaside restaurant, a quiet of a country restaurant, or just strolling through café and bistros in the centre of town, where the pace has mellowed.
Autumn is a season to rediscover the slower pace of life our ancestors knew, to walk along rural roads, to visit oil presses, to regroup with the family by enjoying a leisurely meal together. What could be more enticing than tucking into some "slaughter rice" or discovering the different varieties of delicious, healthy local fish, such as mullet, an autumn staple? And, on a chilly day, why not stay indoors and make "panellets" (little biscuits with almonds and pine nuts)?
In Ibiza, life's little pleasures are directly linked to its gastronomy and the agrarian output of the land. And, really, that's the way it's always been since time immemorial. A journey through mythic Ibiza takes us through its orchards and oil presses, its flour mills and markets, its farms and bread ovens, its wineries and cooperatives… Another of the island's pleasures is to interact with the network of people who keep the Ibiza's heritage alive down through the generations: farmers, fishermen, bakers, those alchemists who make Ibiza's famous herb liqueur, the butchers who make traditional sausages and the cheese makers who revive a dying art.
Last but not least, these days of gastronomy pay homage to all those who help bring forward, through toil and dedication, the culinary legacy of Ibiza's past, consecrated with each guarantee of quality and seal of excellence they proudly place on their products.
Discover Ibiza's great treasure: its gastronomy
#IbizaSabor17: History, tradition, culture, creativity, hedonism and exhilaration
For further information, click here.