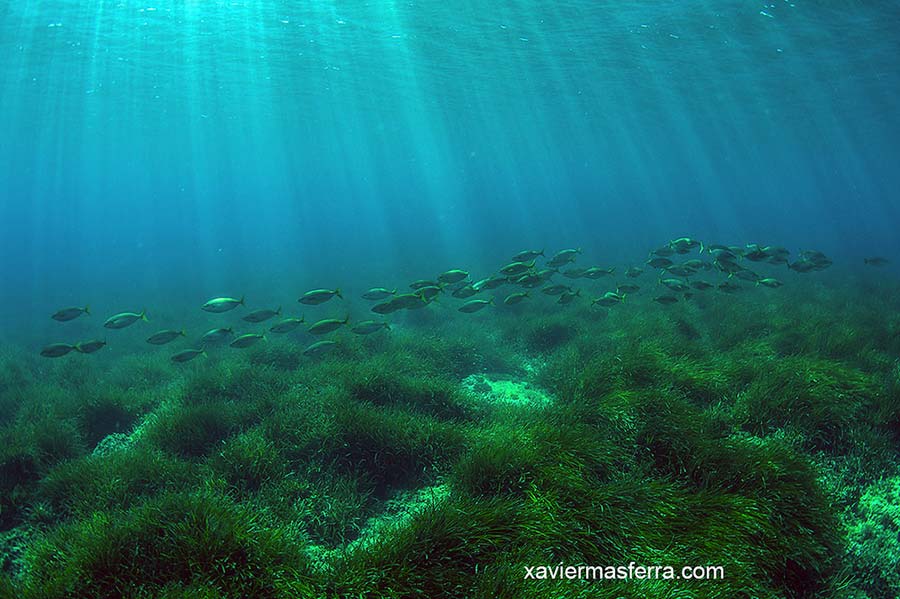 This article will explore one of the island's most highly-valued treasures. It is green—not golden—and tops the list of Eivissa's prized assets. We are, of course, talking about posidonia. At the bed of the Pityusic Islands' surrounding Mediterranean Sea, the millenary plant is today imperilled by illegal anchoring and uncontrolled spills.
To drum up support for the seagrass, Eivissa's local council, the Ajuntament, has has started "Viu la Posidonia". The project ("experience Posidonia" in Catalan) encourages tourists: "Put posidonia at the centre of your Ibiza trip". It is the latest strategy to promote and protect a treasured natural gem and the source of the neighbouring sea's signature turquoise glow and crystal-like clarity.
To get make it happen, the Ajuntament has prepared a series of activities to educate islanders and tourists about posidonia's importance. Nearby meadows of the plant, recently designated World Heritage sites by Unesco, are incalculably valuable to the undersea ecosystem. The initiative's architects are as happy to highlight little-known facts about posidonia (it is alive, and Ibiza's waters depend on it for their cleanliness and clear blue quality) as they are to explain the vital role of coastal protections in saving the seagrass (posidonia has inhabited the area's sea floors for more than 120 million years). Among the most mesmerising trivia on the subject is this: there is a specimen of posidonia that, at eight kilometres long and more than 100,000 years old, is considered both the largest and oldest living thing on the planet. Sitting 18 metres below the surface between Eivissa and Formentera, it is one of the world's most efficient C02-absorbing lungs and home to thousands of species of Mediterranean flora and fauna.
To bring more people on board with posidonia protection, one campaign has focused on local art and gastronomy's overlap with natural beauty. An array of activities will unpack the issue, from a free exhibition by the biologist and researcher Xavier Mas to a photo show that will survey posidonia and Ibiza. By drawing us in and encouraging us to admire posidonia's emblematic undersea beauty, we are compelled to reflect on the threats it faces today. The campaign also includes free kayak rides to posidonia meadows for groups of 25. They happen every Saturday from 9.30am to 12 noon to September 30 at Ses Figueretes beach. A guide will be present to explain the main features of the undersea plant.
Another industry that is keen on teaming up to support awareness was gastronomy. Roughly twenty Eivissa restaurants will retune their menus in order to pay tribute to the local ecosystem, making use of a wide selection of products with the Peix Nostrum guarantee.
Finally, jewellers Elisa Pomar and Enric Majoral have also lent their name to the endeavour. Both will display collections that showcase the artistry of marine flora and fauna and show posidonia as a treasure to be protected and preserved.
It is all part of Ajuntament d'Eivissa's effort to share information about the island's marine biodiversity and promote respect for its natural heritage. It will be crucial if we are to continue enjoying the island as we now know it, today and in the years to come.