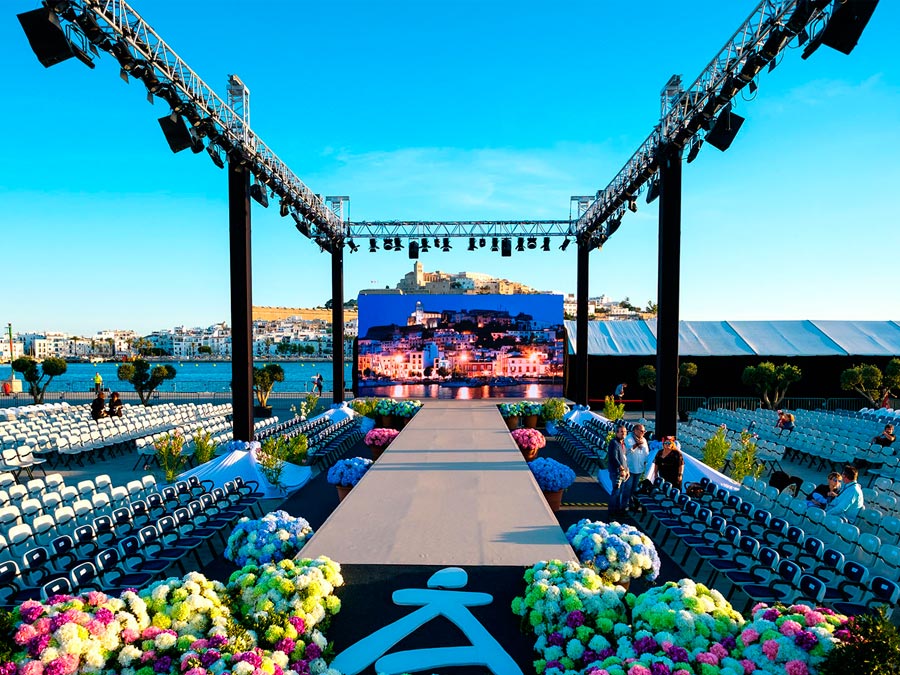 Pasarela Adlib took wing this May at the former site of Ibiza's guild of fishermen, in the shadows of majestic Dalt Vila. Steeped in history, it was a fitting choice for a show that sought to evoke the Ibiza of 1971, when models like Olive Moody and Silvia Dirube preened shoeless to the hippie rhythms that rang out during the show's maiden year. As it opened on May 19 and 20, the latest edition of Pasarela Adlib embodied four decades of history and professionalism. This time, Moody and Dirube, back on the catwalk for Pasarela Adlib's tribute to the seventies, eighties, nineties and aughts, were joined by Mireia Canalda and Ana Vide. Together, the four models represented Moda Adlib like only they could have done it. For designers Briggite Atar, Luis Ferrer and Melania Piris, the chance to watch their past and present muses floss their creations was a tribute in itself. Moving and full of surprises, the Pasarela Adlib kickoff was open to the public and attended by fashion correspondents from more than sixty local, national and global media outlets.
In the run-up to Adlib's Runway show was another event, Futur Adlib, from which Escola d'Arts d'Eivissa student Alfonso Sánchez walked away with the award for most promising newcomer.
The 28 designers that displayed their 2018 collections were Ibimoda, Escola d´Arts d´Eivissa, Giampaolo Giardina, Dira Moda Ibiza, Nanou Couture, Evitaloquepuedas, Monika Maxim, World Family Ibiza, K de Kose-Kose Privée, Rebeca Ramis, Linnea Ibiza, Ibiza Stones, Marisa Cela, Virginia Vald, Elisa Pomar, Vintage Ibiza, Jannine Helbling, Espardenyes Torres, Luisa Tur Adlib, Tanit Jeans Ibiza, Siempreprimavera, Beatrice San Francisco, BSF Man, Piluca Bayarri, Isabel Castellar, IchianaIbiza, Ivanna Mestres and Tony Bonet. With six original designs from each designer, local and national media were quick to note the high quality of this year's garments.
Scores of celebrities came out to support Ibizan fashion, such as actors Ana Fernández, Jesús Olmedo, Nerea Garmendia, Manuela Vellés, María Castro and Olivia Molina, models and presenters Raquel Meroño, Estefanía Luick and Arancha de Benito, personalities like Norma Duval and Ángel Nieto, journalist Isabel Jiménez, stylists Josie and Ana Antic, bloggers Madame de la Rosa, Saray Martín, Miriam Pérez and Joana de la Fuenta and bullfighter Óscar Higares. Pasarela Adlib's guest of honour was Cayetana Guillén Cuervo, reporter, actress and longtime Ibiza enthusiast/champion of Adlib fashion. Presenters Mar Saura and Miguel Ángel Tobías shared the stage with A-list models like Clara Mas, Joana Sanz, Javier de Miguel, Mireia Canalda and Felipe López.
Once again, Adlib Fashion proved that Ibiza's up-and-coming craftwork is about much more than what you wear: it's a way of seeing fashion in a freer way, with good taste, unique culture and a heavy dose of love.