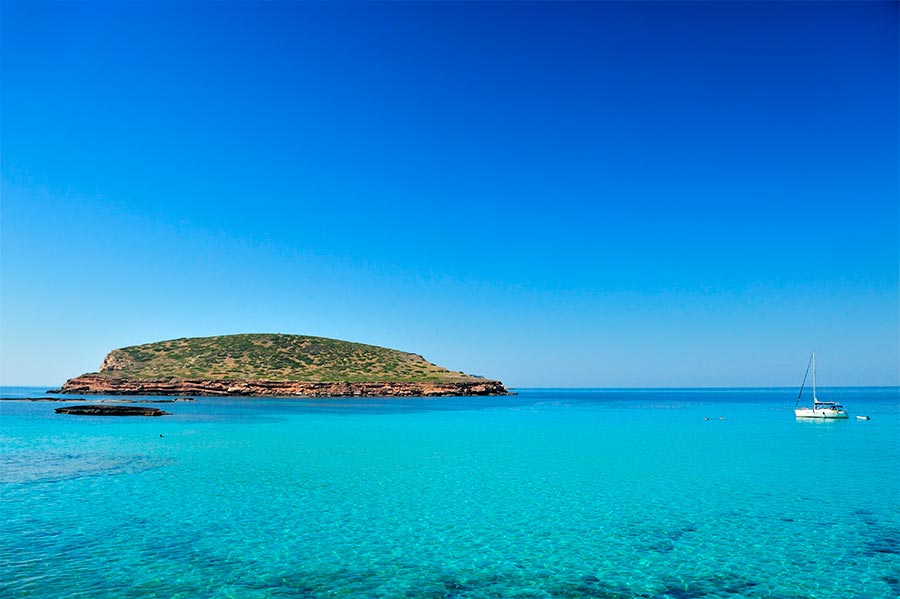 Ibiza is known to the world for beautiful beaches and glass-like waters and that is precisely why visitors come in droves seeking them out. Aboard a boat, from a spot on the beach or on a stroll down the more than 50 kilometres of shoreline—however you choose to enjoy it—one of the island's most impressive attractions is, of course, its sea floor. Beaches like Platges de Compte and tucked-away gems like Cala Oliva are picture-perfect spots to take it all in, apart from the fact they are the site of Ibiza's dry docks (designated cultural heritage sites) and local fare of the kind served up at traditional chiringuitos ("beach bars"). Instrumental to Ibiza's crystalline waters is posidonia oceanica, a marine plant which filters out impurities in the water and the surrounding sea. When their life cycle concludes, the dead seagrasses wash up on the shore and, in the process, naturally anchor sand in its place. The plant is fundamental to ensuring the Ibiza landscape's continued enjoyment for future visitors.
The island's governing authority, el Consell d'Eivissa, has drawn up some basic guidelines for anyone navigating nearby waters, part of an effort to safeguard Ibiza's coast and, in particular, its posidonia meadows. To that effect, the Consell has also published a brochure called "Navega en verde" ("Green navigating"). Whether romping in the water near the shore or zipping across it in a boat, it is important to have a basic understanding of appropriate behavior. By regularly brushing up on a few basics, we can ensure a peaceful coexistence between the natural world and humans.
Boats in the Balearics are prohibited from dropping anchor on fields of posidonia seagrass. The regulations are aimed at preventing the plants' uprooting or other damage. However, various alternatives to anchoring do exist. Safe buoys or blocks, for one, can be used in designated areas. Additionally, any spills in the sea must be taken extremely seriously. Even when composed of organic matter, spills alter the ambient physical and chemical makeup of water and can impact its natural balance.
Our tips for responsible boating include information about safe anchoring spots, how to reserve posidonia-friendly buoys and designated locations to offload bilge water in every port.
To raise awareness about this marine plant, Eivissa Town's Ajuntament ("neighbourhood council") has prepared a number of activities on Saturdays in September. On the agenda are guided kayak visits of seagrass meadows plus displays of posidonia-inspired creations from local Ibiza and Formentera jewellers Elisa Pomar and Enric Majoral. Among the initiative's other participants are a number of island restaurants which have promised special menu items, each with the Peix Nostrum guarantee.
Protecting our environment, however, is about much more than all that. Truly earth-friendly behaviour means taking care of our birds and their neighbours. Music and loud noise are prohibited in protected bird habitats, which means boat parties and related activities are out. Movement in those areas is also restricted for certain types of watercraft, as detailed on the Ajuntament's website. Protecting our local environment is a job for which we need everyone's participation. When you're on holiday, think green!