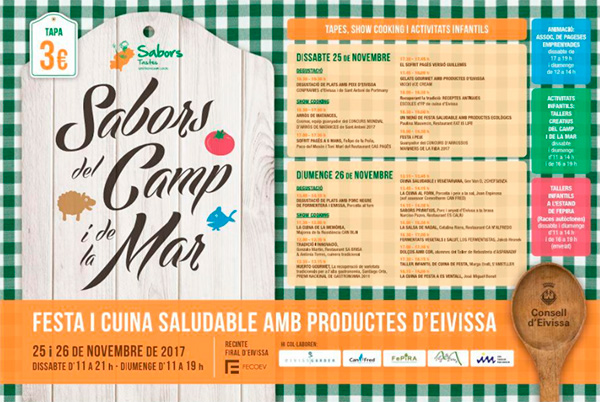 Two factors explain the vast diversity of Ibiza's locally-grown produce: climate and location. Last weekend Ibiza was the site of a trade show showcasing the island's authentic and ancestral culture, "Ibiza Sabors del Camp i de la Mar" (Flavours of the Countryside and Sea). Presented by the Eivissa Council and the small and medium-sized business association of the Pityuses (Pimeef), the event aims to promote gastronomy and local produce by bringing to the fore ingredients like almonds and carob and the Mediterranean's collection of drought-tolerant trees. Other icons of the island landscape featured as well when the event, an offshoot of Ibiza Sabors 2017, took over the fair facilities known as "el Recinto Ferial".
For two days tourists and islanders alike got the chance to discover jewels of the Ibizan countryside. Almonds, for example, continue to play a leading role in Ibizan cuisine, appearing in local recipes like borrida de rajada and underpinning desserts typically served at festivities. Panellets are an All Saints' Day favourite and Salsa Nadal is a hot pudding enjoyed at Christmastime. Outside the islands, exports like the mostly sweet almonds fita, pau and espineta are second only to salt in terms of popularity. Another of the expo's stars was carob, which picked up steam in Europe last century as a substitute for chocolate. High in fibre and antioxidants, carob, in the form of flour or other derivatives, has gained currency with health conscious consumers.
"Ibiza Sabors del Camp i de la Mar" is about bringing together tradition, flavour and some of Ibizan cuisine's more innovative incarnations, whether displays, screenings, conferences and show-cooking demos. Another big story at the fair was the so-called "zero-kilometre" produce, so designated for the reduced distance between the points of production and consumption. Included in the vast product catalogue were botifarró and sobrassada (both sausages), extra virgin olive oil and Peix Nostrum fish, a quality certification that guarantees the authenticity of locally-caught fish.
Fine-dining aficionados were treated to emblematic dishes (think sofrit pagès, bullit de peix and flaó) as well as other recipes that showcased the creative evolution of Ibizan cuisine towards a quality, authentic brand of cooking that turns on fresh ingredients and the inspiration of a place without equal.
The expo was scheduled during a time when attendees would be able to visit the numerous vegetable gardens, oil mills, windmills, markets, fishermen's guilds, wine cellars, bakeries and farmer's cooperative that Ibiza is home to.
Didn't make it to the gastronomic expo? Don't fret! You have until 10 December to try many of the dishes at Ibiza Sabor 17's forty-one participating restaurants!
Tapas, priced at just €7, are chosen from the very best Ibizan cuisine has to offer and served with local wines. Or, for €25, prix fixe menu specials. Bon profit!