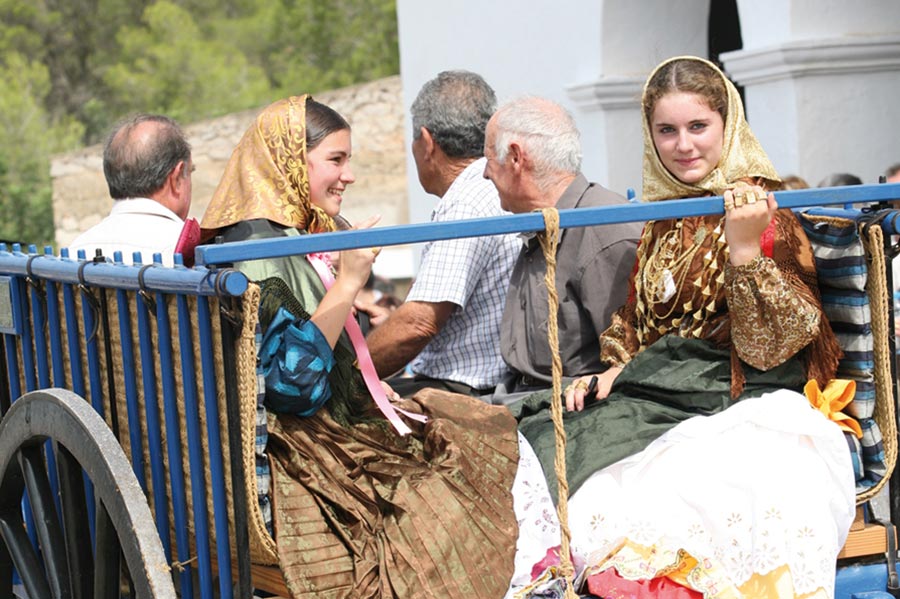 September is here and with it, one last chance to enjoy the island, the beach, Ibiza's natural beauty, warm weather and nightlife. Across five municipalities, twenty plus towns stage patron saint feasts, or festes, each a commemoration of Ibizan history and tradition. Local products, live music, shows, hometown dancing and a flurry of other activities promise to pack the island's plazas this September:
Festes de Jesús: in the town of Jesús, in the heart of Ibiza, it's party time until September 30. This year's programme has a colourful repertory of activities for all ages. Music, sport, culture, contests, workshops and other fare are the centrepieces of these unbeatable local shindigs. A parade of floats, live music shows and acrobatics—all new this year—give way to a closing fireworks show.
Ibiza Port: every Friday in summer and till September's end, onlookers are treated to ball pagès dance curated by the Ibiza Association of Port Merchants. At these displays of homegrown culture and tradition, scenes of typical Ibizan footwork, performers play instruments and are otherwise self-accompanied musically. Commencing at 9.30pm at Sant Pere's bastion ("el Baluarte") in Dalt Vila, the exhibition cuts a path to newcomer plaza Es Martell on Avenida de los Andenes, to clattering castañuelas, flutes and drums. 
Sant Mateu d'Aubarca: on September 21, the town of Sant Mateu kicks off its special day with a mass, procession and ball pagès show. Then, when night falls, Orquesta Paradise will take the stage and light up the town. The town's first Nordic Walking event happens September 22. The next day, a 10K fun run, the fifth Cursa Popular, will be followed by Es Cubells theatre group's stage performance in the multipurpose centre and an awards gala. 
Sant Miquel de Balançat: this town's patron saint feast gets under way September 29. The celebration starts in the morning with a toning of church bells, then moves on to a solemn mass, a procession, ball pagès and treats like orelletes, bunyols, flaó and local wine. Later that afternoon, there are fun, child-friendly activities and fireworks.
The wash of activities will make sure the island does its big summer send-offs in style. It's party time on Ibiza, so let's party together!