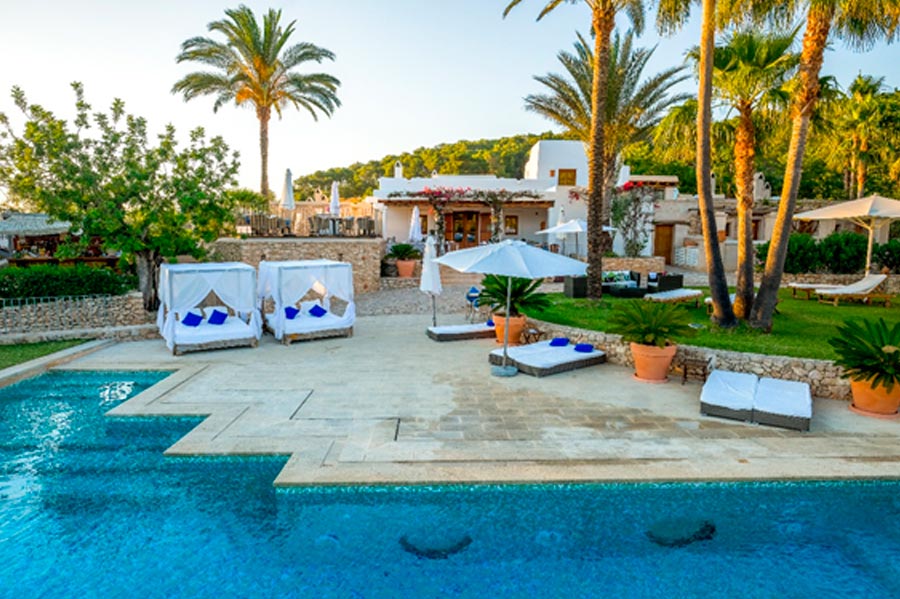 Though Ibiza might strike some as a clubber's paradise, the natural surroundings, climate and endless leisure options mean that families, too, will find everything they're looking for and more. Beyond the beaches, which happen to be perfect play spots for the little ones.
However, there is a near endless list of original activities that the tikes will never forget, so pay attention. Most of them are a just few minutes' drive away, and some are even open 365 days a year.
One of kids' favourite spots to beat the heat is Aguamar water park. At the heart of Platja d'en Bossa, it is a dream spot to take the family when things really get cooking. The park boasts its own restaurant, picnic area, swimming pools for small children and never-ending waterslides for thrill-seekers. This is not, however, your only option in thrilling family outings. Head to Es Canar to find Acrobosc, an outdoor park with zip lines, climbing walls, footbridges and multiple other activities specially-designed for the whole family. Who said there was just one way to combine fitness and sightseeing?
With the aquatic activities at many local beaches, you won't even have to get out of the water! Then there are paddleboats. And paddle surfing. And snorkeling. All are ways to discover the island from a completely angle: the water. Ibiza is also an island of culture and history, all you need to do is look for it. At Cova de can Marçà at Sant Miquel, a port town in northern Ibiza, you can discover the depths of Ibiza's waters…and its past. In just over thirty minutes, you won't just learn about Ibiza's geological features; you'll uncover secrets about the smugglers that used island as their own personal tobacco piggybank. On your way out, get ready for some of the island's premier vistas. We recommend stopping for a drink to take it all in.
If you are fretting about whether the tots you've got in tow will mean Ibiza's markets are off-limits, worry not. The island's markets have got activities for kids, too. Both Punta Arabí's hippy market and the Las Dalias market offer up live music, food stands with seating and kids' corners. This year, Las Dalias has even updated their hours to make them more family-friendly. Plus, at 6.00pm, there's  Namasté Up To Us, which blends children's activities with a market of craft vendors.
Overnight options for the family
Lastly, it is worth mentioning that Ibiza possesses all sorts of overnight accommodation. At many hotels, you'll find specially-designed pools where the kids' aquatic adventures are perfectly compatible with your time relaxing in a hammock. Options also abound for families looking for something different, like agritourism resorts.
They can be found across the island and it bears repeating: they are great for families. Friendly service and flexibility are highlights of this alternative to luxury holiday accommodation. Whether it's exclusive or down-home you're after, you'll get plenty of personality and a new take on holiday travel. One thing you won't miss out on is attention to detail and good customer service. Many agritourism resorts are family operations where the great services and personalised care are years in the making. Your kids will already be impressed when they see the natural setting, but many of these destinations have a barn nearby or other activities to bring nature to…
That's just a small sampling of everything you can do with the family on holiday on Ibiza. We still haven't mentioned hiking, cycling, nature walks in the woods, theatric guided visits of Dalt Vila, outings, culture walks, family-friendly restaurants…what do you say? How about bringing the family?