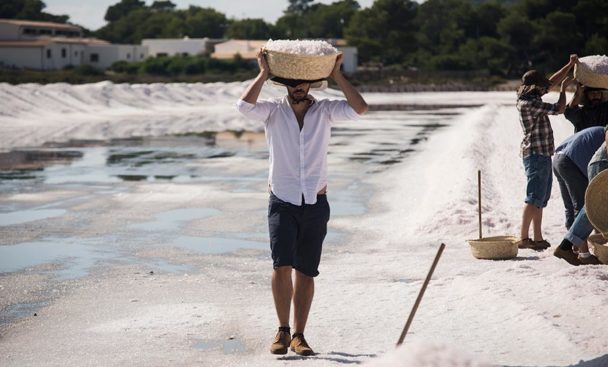 28-29 October, the Sant Josep de sa Talaia municipality will put on its second Feria de la Sal (literally, "salt fair") to teach tourists and locals about Ibizan salt, an industry rich in culture and heritage. Through assorted activities, attendees will uncover the ins and outs of the salt harvest.
Organisers call it a tribute to workers in the salt ponds—past and present—and their centuries-long contribution to the island. The Govern Balear, Eivissa Council and the municipal government of Sant Josep de sa Talaia partner to coordinate the fair, which is free and open to the public.
This year's Feria de la Sal will be included in the programme of events of Ses Salines nature preserve, another way to promote understanding of local history among tourists and residents. The opening act of the fair —"L'Era de l'Antic Munt de Sal"—is a traditional bonfire: the salt harvest's proverbial starting shot and workers' cue to return to the ponds. The fair's centrepiece, a dramatisation of toilsome traditional methods, will feature actors in period dress wielding turn-of-the-century tools of the trade. Mechanical production didn't replace the industry's reliance on manual labour until 1955. The traditional salt harvest will also be reproduced, along with a fogueró ("bonfire") to signal to individuals employed in salt works to start their shifts.
Now in its second year, the fair's programme includes roundtable talks and exhibitions at "La Nave," a one-time salt storehouse. Veteran workers and historians lead the events, providing insight on the true shape of the industry and its historic importance on the island. Other activities include dramatic reproductions at sa Sal Rossa, a watchtower for salterns operations, and guided visits of the nature preserve.
Visitors will learn about the ways salt is used, like to cure meats, olives and fish, and have the chance to taste ossos amb col (literally, "bones with cabbage") a signature of local cuisine that features salted pig bones. A folklore troupe from Sant Jordi de ses Salines will interpret a traditional dance and fairgoers will see the ritual known as salpassa, in which parish priests blessed households by leaving at their door water and salt.
Eivissa's Ses Salines nature preserve is one of the jewels of the Balearic Islands; the truly picturesque surroundings seem to implore photographers to immortalise the sight in postcard form. The area has been officially protected since 2001 and today comprises additional 2,838 hectares of salterns on Formentera. A tract named for Es Freus, the roughly 6.3K strait that separates the two islands, accounts for 13,000 hectares of the preserve as well.
The event aims to reclaim a centuries-old industry that for years reigned supreme across the Mediterranean. Salt extraction continues today, along with processes very similar to those of years past, the white mountains of salt a unique and surreal imprint on the local landscape.