The "caramelles" are the oldest examples of traditional music from the Ibizan songbook, which are so singular and ancient that they have been designated as intangible Cultural Heritage. The most famous "caramelles" are sung in Ibizan churches at Christmas, especially at Midnight Mass, on Christmas day, and at the festival of the Epiphany, although there are other types of "caramelles" too, which are sung at Easter, and lately their verses have been recovered and now resonate once more in the island's churches during the Easter festivities.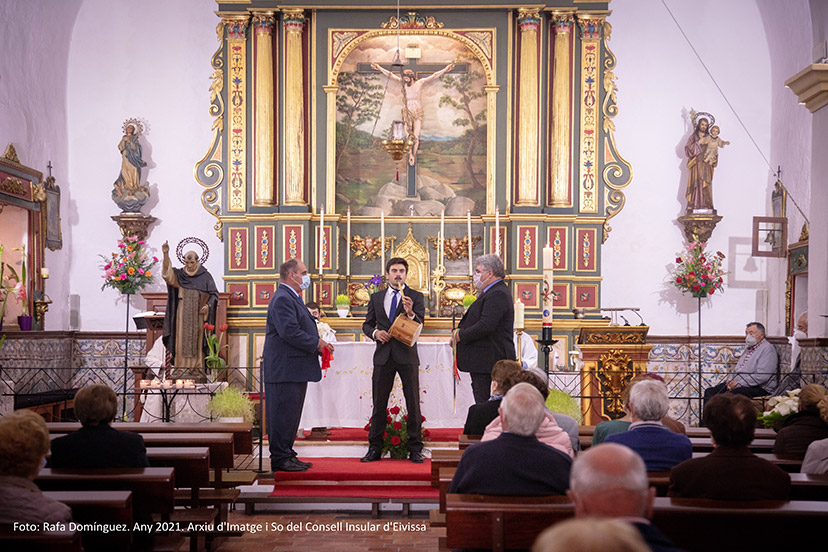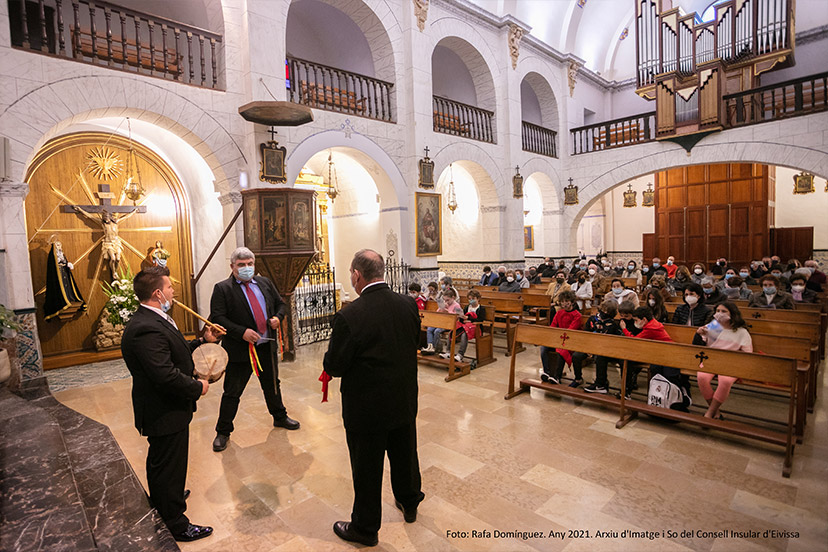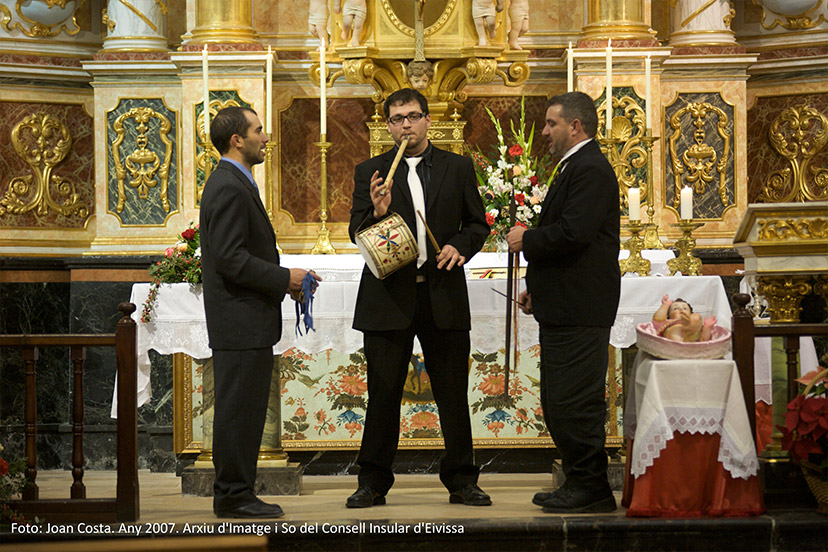 These songs represent the maximum expression of what is known as the Ibizan 'cançó redoblada' and the songs are sung by a group known as the 'esquadra de caramellers', which is led by a "sonador", who marks the rhythm with a drum and flute, and two "cantadors" who sing along to the accompaniment of castanets and the "espasi", an original metal instrument which keeps time with the melody.
The Easter "caramelles" tell the story of the death and resurrection of Christ and were formerly sung during the Easter Sunday mass. Faithful to their oral tradition, these compositions are organised in a similar way to the Christmas "caramelles" that is, the narration of the death and resurrection of Christ is spread over a total of 14 "cobles" or verses, although they have not changed as much over the passage of time as the Christmas songs which are far more popular and well known than the Easter versions.
This tradition presents a long and elaborate sung representation of the mysteries of death and resurrection of the Lord, offering a preliminary ceremony, which always takes place prior to the actual performance, and following the gospel reading during the Easter Mass, the members of the 'esquadra de caramellers', rise and go to the altar where they sing their hymns. The drum and the flute, that mark time to the melody, face the altar with their backs to the congregation. On either side stand the "cantadors" with their castanets and the "espasi." The "caramelles" begin with a musical performance featuring all the instruments and then the singing of the 14 "cobles" begins, relating the story of the Holy Week celebration.
The ancestral "caramelles" originated in an agricultural society where most people were illiterate and so the stories were told in oral form. This tradition was abandoned following the Civil War, and it was not until the nineteen fifties that the songs began to be recovered. A well-known Ibizan historian and chaplain, Isidor Macabich, published the lyrics of the 'Caramelles de Pascua' and these provided the basis for the recovery and conservation of this markedly religious tradition.
Nowadays, in an effort to inform and to maintain this ancestral tradition, the Department of Culture and Heritage of the Consell Insular – the island government- organises a programme of concerts every year, the "Caramelles de Pascua" which can be listened to throughout Holy Week in the island's different churches.