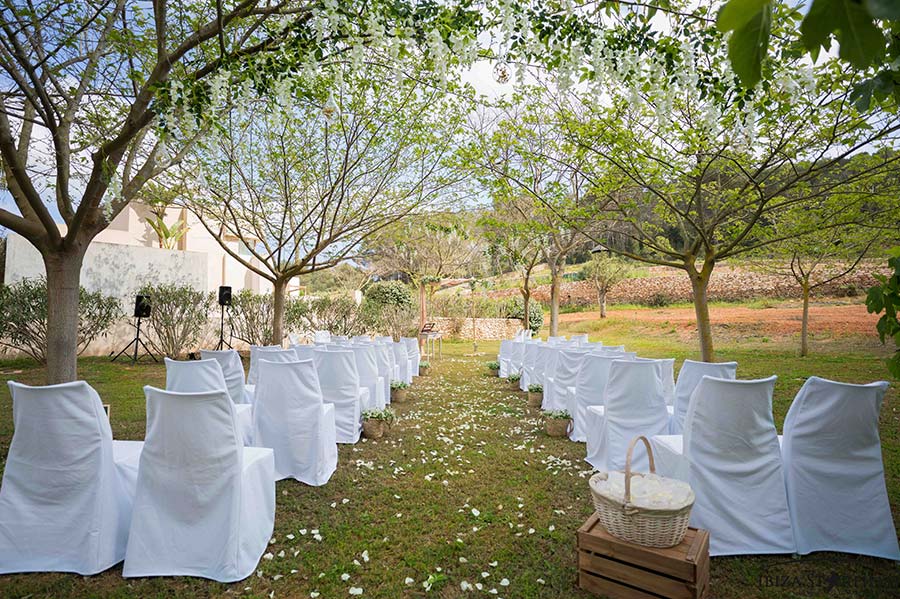 There is something about Ibiza that you will fall in love with, something that will grab you and won't let go. First-time visitors tend to become repeat offenders. It is a Mediterranean jewel whose yearly legions of tourists hail from all corners of the globe. They come seeking of all manner of things: black-tie luxury, nightlife, R and R, outdoor activities, family-friendly options and fun with the mates. Of course, Ibiza is also a destination for weddings. In ten years, the number of ceremonies on the island has increased five-fold and locals aren't the only ones saying "I do"; brides- and grooms-to-be come from all across Spain and a range of countries including Denmark, Germany, England, Italy and Russia.
To meet the demand, many local businesses have stepped in to provide coordinated services like first-class photography, video, catering, hotel accommodation, decoration, planning, transport, styling and makeup. Together they form the perfect patchwork, positioning Ibiza as the ideal place to celebrate a day you will never forget.
Ibiza weddings are in. In a tiny cove, tucked in a heavenly hideaway, at a local church, surrounded by stunning natural beauty, at a romantic restaurant, as the sun goes down or beneath the starry sky. There is something special about Ibiza that resonates with couples that something different, perhaps even a bit of down-home tradition. Many opt to say their vows in one of the centuries-old churches that punctuate each town. The blend of whitewashed walls, plain wood and stucco embodies countrified simplicity and adds charm to any ceremony.
Every town on the island is ripe with romantic nooks that are the perfect spots to say "I do".
Ibizan fashion—or Moda Adlib, as it is today internationally known—boasts a certain relevance in the industry. Both designers and future newlyweds choose Ibiza for its special brand of locally-crafted wedding attire. Made (with love) on Ibiza, for Adlib newlyweds. Ladies get bespoke, one of a kind pieces designed to showcase their natural beauty and figure. The freedom of Ibizan style and the "wear what you want, but with style" formula is in every stitch.