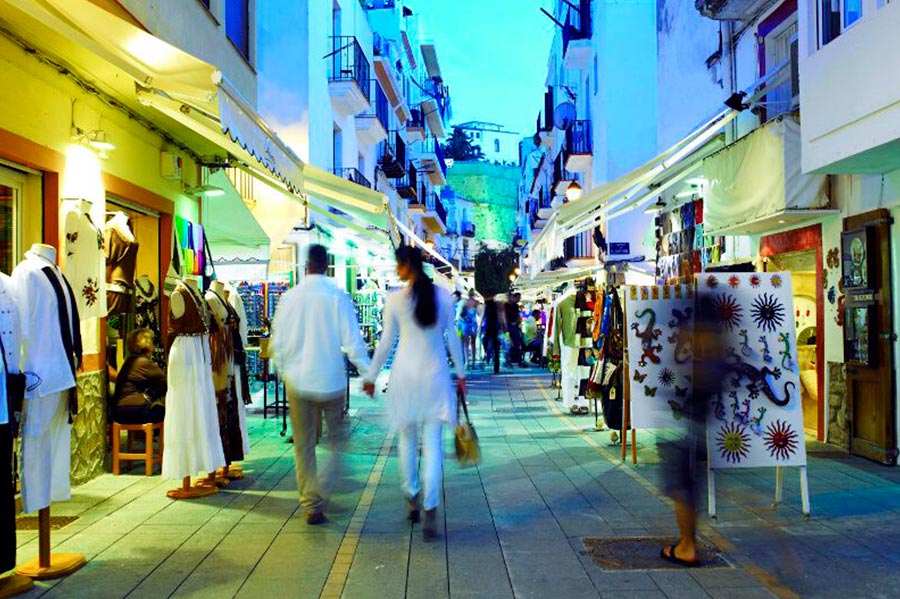 What top-ten list of glamorous getaways-cum-shopping destinations would be complete without Ibiza? (Magazines and trendsetters will back us up on this one.) The charming local shops and homegrown products of Ibiza bring as much luxury and prestige to the mat as cities like New York, Paris or Milan.
When Ibiza grabs, it holds. When you're hooked, it won't just be the nightlife, people, or dream vistas. That's because what makes the island unique is also its culture, philosophy, life style and passion for good clothing. To understand why, consider the seventies, a decade when the island found itself the destination of tourists from across the globe. So the story goes, it was the meeting and mixing of these hippies with resident farmers/peasant farmers/Ibiza-natives who worked their own land that would ultimately give Ibiza the unusual blend of cosmopolitanism that defines it today.
Ibiza's local businesses, offbeat and original, have made a name for themselves too. Their crusade? To be worthy standard bearers/representatives of one of the world's most select destinations. The kind of place people want to shop. The kind of place where fashion is fun.
What follows is a list of the best spots and brands for Ibiza exclusives. The best part? Most of them are open late:
Dalt Vila: the streets here—take Carrer d'Enmig, one of the most iconic—are the perfect place to spend an afternoon hunting down the one-in-a-million finds you'll only find here. Count on this neighbourhood's shops for whatever you need, whether designer swimsuits, sunglasses, Ibiza-made apparel for men and women, handmade shoes or souvenirs. Check out the stands, too. They sell typical local treasures like key-chains, silver bracelets and handmade accessories. While you're there, pop in in at designer Elisa Pomar's talked-about shop, where you'll find head-turningly chic traditional jewellery that has featured on runways round the world. Consider the "Victor" brand of men's wear, whose house-designed linen shirts—pure Ibizan style—look so good that hardly anybody gets out of there without one!
Santa Gertrudis de Fruitera: in southwestern Ibiza, on the road to Santa Eulària des Riu, sits Santa Gertrudis de Fruitera, a town whose becoming boutiques, laced with style and naturality, have made it famous. A handful of paces from the town church, "Es Cucons" is one such example. The country home, repurposed as an offbeat boutique, offers clothing, accessories and home déco pieces of all stripes. You'll find "Angels" next door, something of a bazaar traffiking in crowns of flowers, shoes, exclusive apparel and indie jewellery.
Mercadillos: market visits have become a rite of passage for tourists, and with good reason: they are treasure troves enfolding 50 plus years of colourful history and tradition. Some of them are still going, symbols of the Ibiza life style, the hippy vision and artisan trades. One place that's impossible to overlook on the Hippy Market circuit is Las Dalias in Sant Carles de Peralta. It's open Mondays, Tuesdays and Saturdays all summer. Es Canar's Punta Arabí market is on Wednesdays. Then there are second-hand markets at Sant Jordi de Ses Salines (Saturdays) and Sant Joan de Labritja (Sunday). Each one of them is studded with little gems wraught with history. Don't you want to take one home and show it off? They are here waiting to be found.
Moda Adlib Ibiza: At 46-years-old, the style, freshness and freedom of Ibiza's hometown fashion line have made it the smash hit it is today. Among the 28 creators anchoring Moda Adlib Ibiza are Piluca Bayarri, star of light, girly creations which she peddles in her port-side location, and Charo Ruiz, whose boutiques on Vara de Rey in central Ibiza are arrayed with exclusive designs already styled by untold celebrities and big-shots. Tony Bonet's well-known cotton lace designs are handmade and available in locations around the island, like Ibimoda, for instance.
There's no way around it: Ibiza is a shopping stronghold. Take a stroll down its bewitching alleys or a ride through its charming towns and see for yourself. Take home a one-in-a-million find, like an Ibiza-tinged accessory for a wedding dress, and join countless others who have come before you. 
Nothing beats a souvenir you can eat, especially when it tastes just like Ibiza. Country-style sobrassada sausage, hometown breuvage hierbas ibicencas, Ibizan salt or, local stars of the dessert scene, orelletes and flaó, these treats for the senses make the perfect gift. Whether you keep it for yourself or share the love is up to you.