There are few Ibizan traditions as well-established and fun as the peasant "xacotes". These celebrations take place around wells and springs. Originally, they commemorated the end of harvest and work in the field, but they also paid homage to water, the fountain of life and a resource that is not abundant on the island. Not a century ago, the wells and springs were a crucial cross for watering the cattle, but also a meeting point for the inhabitants that lived nearby. Together with the church, it became the main social and courtship point.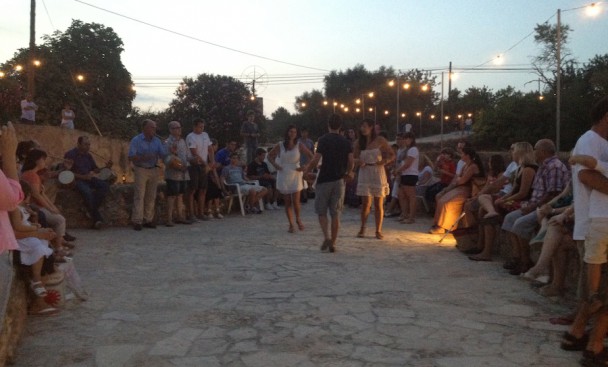 Young people dancing 'ball pagès'
Moment of 'ball pagès'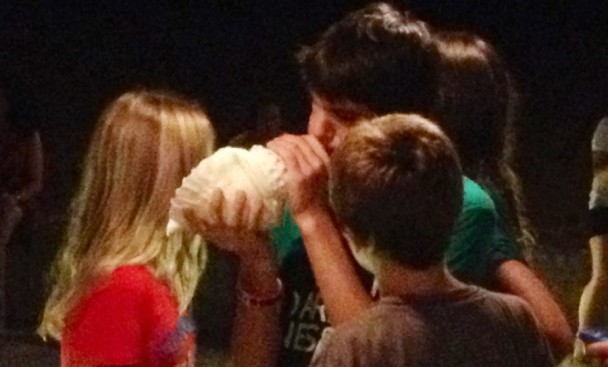 A boy blowing the horn
A good time to visit the "xacotes" would be on the first Sunday of August, after Santa María, when there are other celebrations on the island. One of the oldest celebrations takes place in "Sa Font des Yerns" (Yerns' spring), in Santa Eulària, between Siesta and Cala Llonga.
Every year, this hidden corner between the neighborhoods of Terç and Can Ramon de Baix is filled with music and animation. These gatherings usually bring together several generations: grandparents, parents, sons, and grandsons. All of them dance together to the sound of flutes and drums. The "xacotes" are always juiced up with "ball pagès" (peasant dances), and accompanied by a peasant wine tasting and the delicious "orelletes". Some celebrations, such as the one in Yerns, recover traditional games like "brulada de corns" [1], the "ucs" contest [2], and the throwing of the "ferradures" [3].
The "xacotes" are a good example of the islanders' eagerness to keep their traditions well alive. Although some of them have evolved over time, these celebrations still enjoy the appreciation of music, dancing, good chats under the fig trees, and the popular joy that spreads quickly as the riverbed.
[1] Blowing the horn or seashell.
[2] Ancient yells that peasants used to communicate.
[3] The traditional game of throwing horseshoes.