In the village of Santa Eulària des Riu, close by the historic monument of Puig de Missa, the hill of Puig den Ribes rises to 221 metres, and from its peak you can enjoy spectacular views of the bay, the sea, and the island's interior. At the summit, which is reached by a steep and narrow path that runs through a wood, you will find the hermitage of the same name. This little rectangular chapel was built in 1858 by Pedro Juan, called Pedro Puet, as witnessed by a small ceramic plaque inside the church.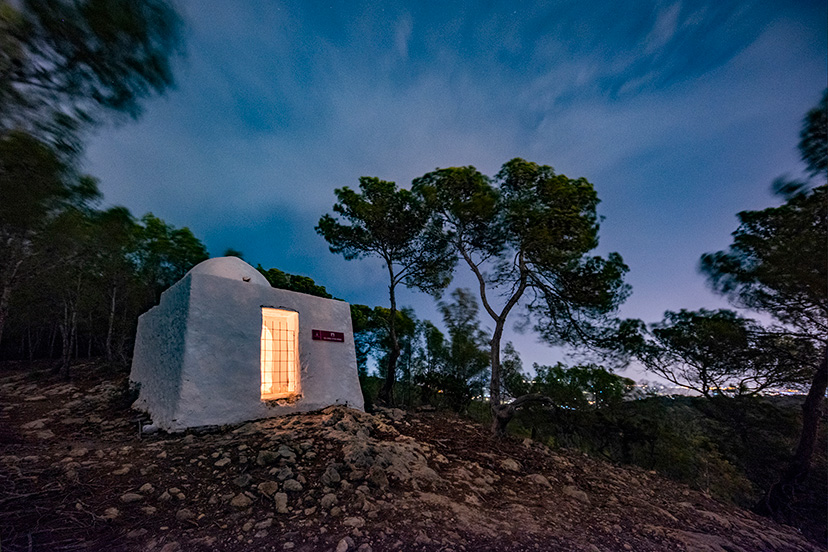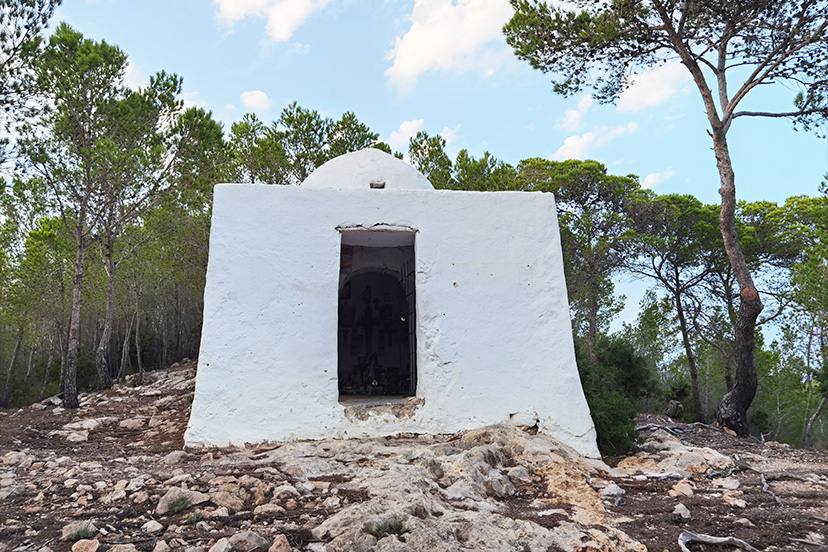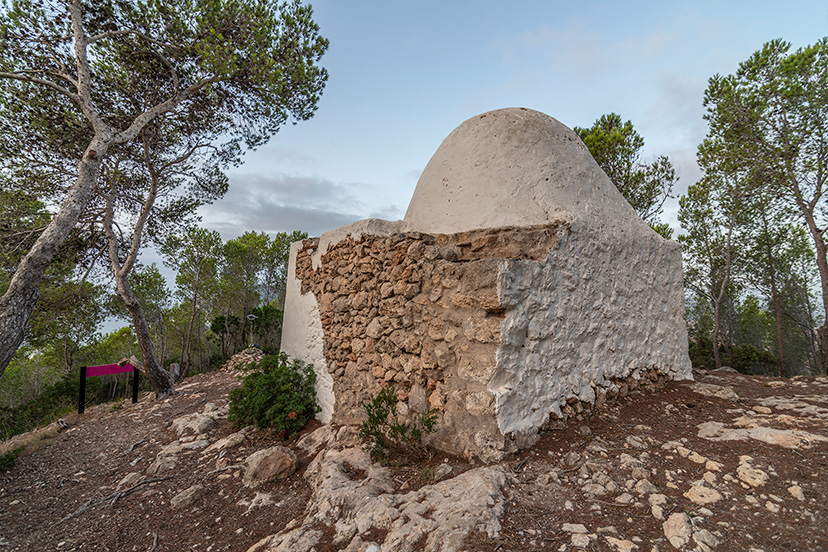 This little chapel is one of the oldest on the island and the only one that, despite its tiny dimensions, has two separate rooms, a small sacristy and an oratory (barely 5.54 meters long and 4.30 metres wide). Every year, coinciding with the festivities of the First Sunday in May, the faithful hold a romeria or open-air fiesta, making their way to the top of the hill to visit the chapel and perform the traditional rites and practices of this little sanctuary.
The fact is that the enigmatic origins of this hermitage are shrouded in mystery and visitors may well feel something strange in the air as they begin their climb to the summit. Legend has it that the owner of the wood was felling pine trees for his winter fuel supply when, as he took a break from his cutting, a mysterious little man approached, offering to help in return for his rosary. The wood cutter, mindful of the task ahead of him, gratefully accepted the deal and the man began to fell the pines at a furious rate, finishing the task in record time. When the little man approached the wood cutter to receive his reward, the latter realised in horror that a pointed tail was protruding from beneath his clothing, confirming his fears that this was in fact the devil himself. Realising this, the woodcutter at once set off, running desperately up the mountain, fleeing the creature and on reaching the summit, at the very spot where the hermitage stands today, the devil disappeared, and so the forester decided to build a chapel there to give thanks for his escape from the devil.
Another myth surrounding the hermitage is the curious requirement for visitors to circle the chapel seven times before entering it to ward off any problems or disputes with family and friends. When this ritual has been dutifully completed, you can enter the little hermitage which is filled with votive offerings candles and personal items, or you can have a well-earned rest in the shadow of the pines that surround the little chapel.