If there is anyone who has not realised by now that Ibiza is a paradise it is because they have not visited the white island, but if they are still unaware that children feature largely in island holidays they have no idea what they are missing!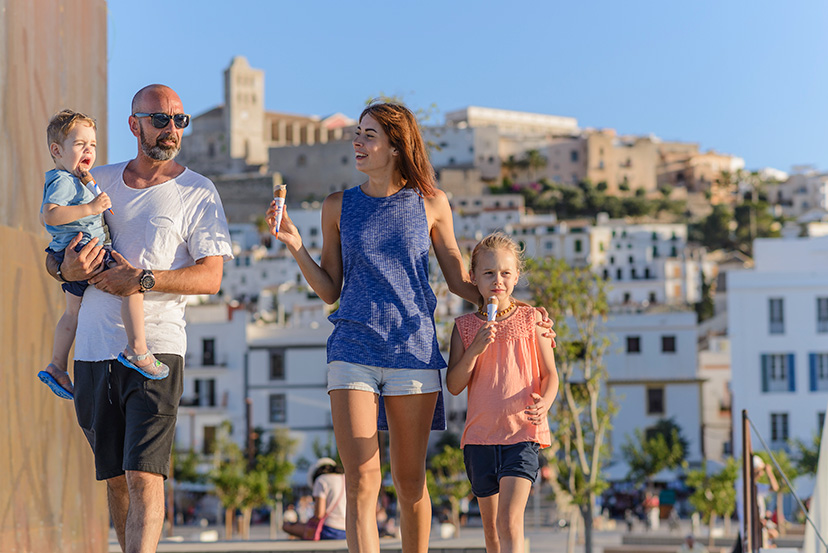 Every year thousands of families from all over the world choose Ibiza as their holiday destination, and as such the island is also a benchmark in this particular segment. Its past and its heritage, its culture, customs and cuisine, not to mention the hotels and accommodation designed with the smallest members of the family in mind will ensure that the island will become your favourite holiday choice, that is, if it isn't already!
It is not difficult throughout Ibiza's 572 square kilometres to find hotels and resorts designed for families, with entertainment for kids, pools with water chutes, entertainment, children's clubs, childcare services etcetera. However, there is also a whole host of other amenities available aside from what's on offer in hotels, in terms of culture and countryside.
Ibiza provides an opportunity for innumerable water sports, on board a catamaran, a surfboard, or even an inflatable sofa. It means that you can travel back to a past world by visiting the ancient walled neighbourhood of Dalt Vila, to one of the Fortified Towers or the Carthaginian Necropolis of Puig des Molins in which children especially can join in the many workshops on offer, allowing them to play archaeologist for a day. It is possible to discover our traditional dance the "Ball Pagès" in one of the many performances that fill the island's streets and squares with rhythm and movement all year round. It means you can enjoy our cuisine, either just savouring it or even learning how to cook our dishes with some of the workshops organised by the Consell d'Eivissa in the local produce markets of the island.
Not only that but Ibiza has so many things do run by private enterprises with some unique experiences such as balloon trips, playing a piano made entirely from plants, discovering what the caves were like in the days when pirates hid their stolen treasure there, and there is even an alpaca farm that you can visit!
As a result of all this, and more besides, Ibiza deserves to be enjoyed by the whole family because the place has so much to offer to kids, their mums and dads and the grandparents too. We look forward to seeing you soon!