Ibiza in winter is synonymous with peace and tranquillity, and with country walks to the island's natural beauty spots that can be enjoyed in all their splendour far from the hustle and bustle of the towns. The months of January and February provide an added bonus for walkers which makes both daytime and evening strolls a pleasure for all five senses, namely, the almond trees in bloom.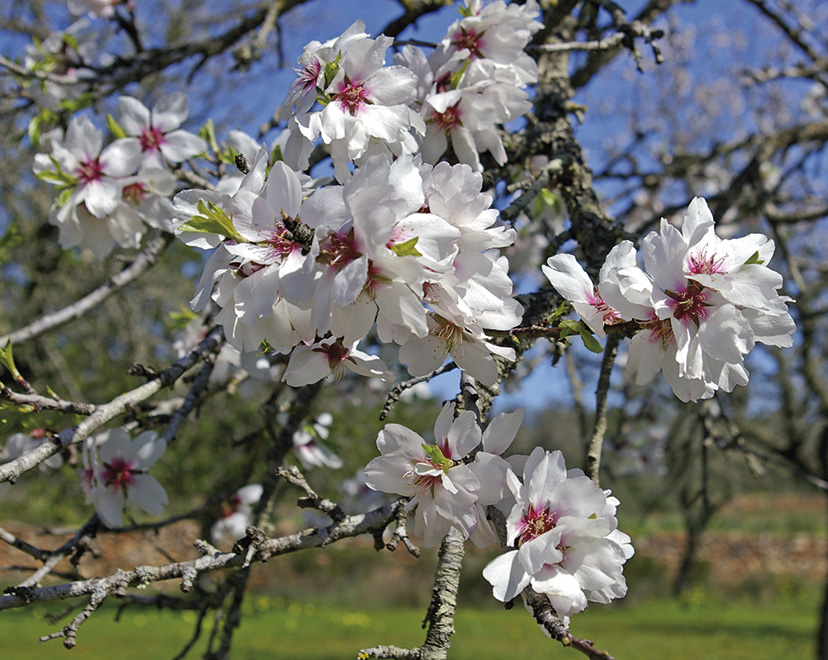 The almond blossom bathes the island with the brilliant white of its flowers. Thousands of trees dot the island countryside offering walkers and hikers an amazing spectacle. The little, immaculately white blossoms which in time will become the almonds that feature so prominently in traditional local cuisine are burgeoning with magnificent exuberance and the perfect objective for photographers seeking to capture this powerful symbol of the Ibizan winter.
However, one place in particular provides a magnificent example of this spectacle, and that is Pla de Corona, in the vicinity of the village of Santa Agnès in the municipal district of Sant Antoni de Portmany, a valley where the almond trees at this time of year create a veritable blanket of white. Both during the day and at night in the light of a full moon, it is normal to see visitors taking a stroll among the almonds in bloom. There is no question that this night-time visit to Pla de Corona is a most eagerly awaited event, where the shining light of the full moon is reflected in the brilliant white of the almonds, providing almost magical vistas of this beautiful spot, where there is no need for a torch to guide your steps.
Visiting Santa Agnès during this time is also an opportunity to steep yourself in Ibizan traditions, as it coincides with the fiestas held in honour of the patron saint and numerous events are held, including masses, processions, displays of local folklore, food tastings with local products and guided trips. This is a unique opportunity to get to know the real Ibiza and to be charmed not just by the countryside but also by some of the delicious dishes and desserts made with almonds including the borrida de rajada or the guisat de peix, two recipes based on almonds, not to mention typical sweets such as magdalenas payesas.
Winter is ideally the time of year to pay homage to one of Ibiza's most iconic features, namely the almond, and the stunning array of natural beauty and gastronomic delights associated with this local product that is an essential part of island life.