In Sant Pere and Sant Jaume strongholds, we can enjoy different activities thanks to the museum transformation and heritage interpretation.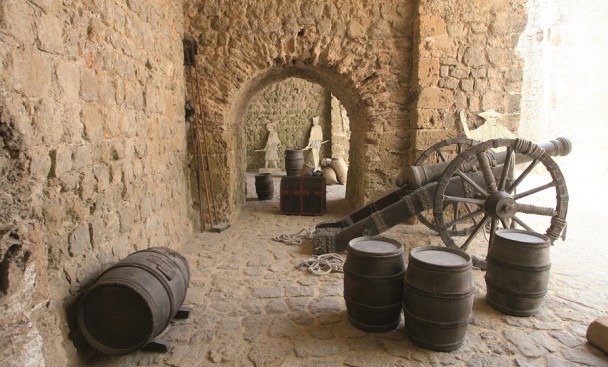 In Sant Pere Bastion we can visit the barracks from which there are some explanatory audiovisual projections about the building of the Renaissance wall. This stronghold occupies the northeast part of the premises and it is one of the most complex due to its location over a large slope. The barracks can be accessed by a tunnel that connects with Portal Nou corridor. The barracks were located on the sides of the Renaissance stronghold. These small patios held the artillery pieces. A museographic unit shows how it was possible to build such great construction as the walled area of Dalt Vila.
In Sant Jaume Bastion, descending from Ronda Calvi, the military technology from the 16th and 18th centuries is represented. This stronghold faces west, and the barracks on the sides cover the sides of Sant Pere stronghold on the north, and Sant Jordi, on the south. During the 16th century, the use of fire weapons thrived – blunderbusses and pistols. The 18th-century artillery pieces were lighter cannons that shot solid iron balls or canister fire that blew up on midair. The mortars launched explosive grenades. Cannons, a heavy mortar, muskets, swords, helmets, etc. are exhibited for visitors to try.
Opening Hours:
– From April 1 to October 15:
Tuesday to Saturday: 10am – 2pm; 5pm – 8pm
Sunday: 10am – 2 pm
– July and August:
Tuesday to Saturday: 10am – 2pm; 6pm – 9pm
Sunday: 10am – 2pm
– From October 16 to March 31:
Tuesday to Saturday: 10 am – 3 pm
Sunday: 10 am – 1pm
Address:
Dalt Vila - Ibiza
Telephone:
971 399 232
Web:
http://www.eivissa.es