The streets of Ibiza's La Marina neighbourhood are filled every year with flowers and music to honour Our Lady of Carmen. Worshipers, residents, tourists and friends come to experience this colourful tradition where the Port of Ibiza is filled with boats and flowers for the main celebration. Although the most popular activities take place in Ibiza Town, many other towns and villages on the island celebrate this festivity in honour of the patron saint of fishermen.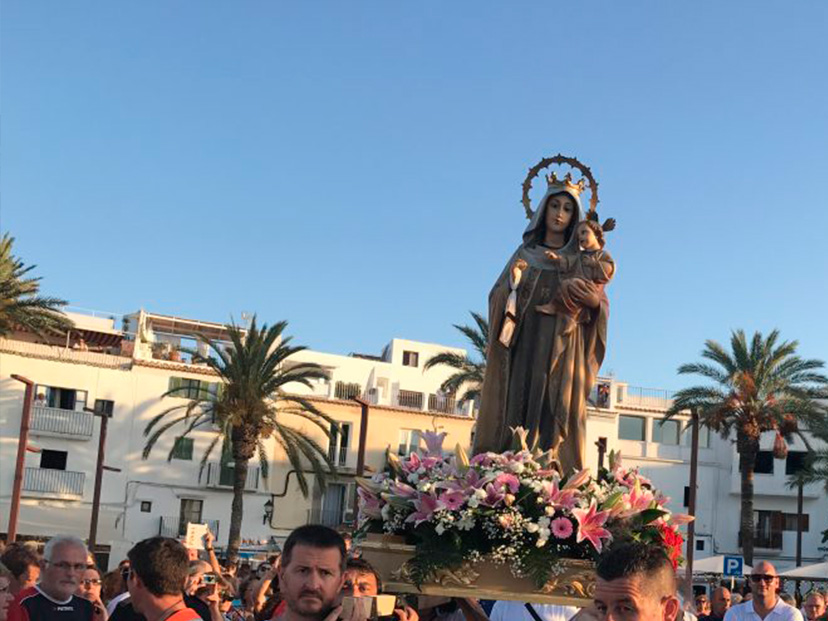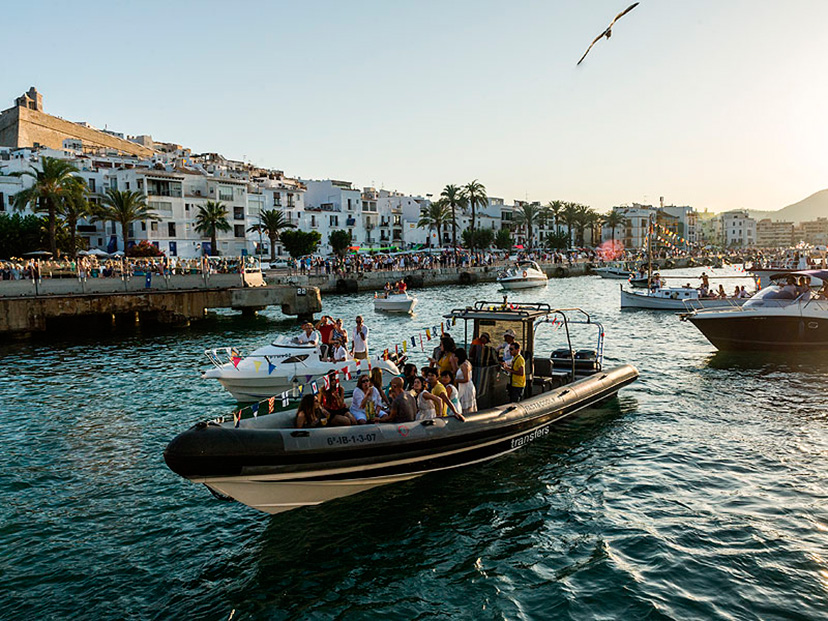 At 7pm on 16 July the church of Sant Elm celebrates a solemn mass with a performance by the church choir. After the ceremony, accompanied by a music band and worshipers, Our Lady of Carmen is paraded through the streets of Ibiza's old quarter, before embarking on a llaüt (small traditional fishing boat). At sea, dozens of boats, rowboats and llauts accompany the Virgin to the open water under the watchful gaze of the curious onlookers that gather here each year to experience this emotional moment for the mariners.
Other parishes such as Portinatx or Es Cubells also host activities to celebrate the feast day of Our Lady of Carmen, on dates on which they also celebrate their patron saints. Thus Portinatx, a small town located in the municipality of Sant Joan de Labritja, in the north of the island, carries out and celebrates between Thursday 11 July and Sunday 14 July a series of activities for the whole family in which gastronomy, leisure and children's activities take centre stage. A programme featuring the traditional mass in honour of its patron saint on Sunday 14 July at 7pm, followed by a parade, accompanied by the Sant Antoni de Portmany Rocío Brotherhood Choir, floral offerings to the Virgin and the traditional Ibiza dance by the Colla de Labritja.
For its part, Es Cubells will host two processions: the first on Sunday 14 July at 10 am, with a mass followed by the traditional sea procession, and the second on Tuesday 16 July, as the closing act of its patron saint celebrations, with an official mass and its respective procession, from 8 pm, culminating in a performance by Grup Folkloric de la Colla de Sant Josep de sa Talaia.
Finally, in the town of Sant Antoni de Portmany, Our Lady of Carmen is also given a great deal of importance, as this is predominantly a seafaring town, which is why a procession is held to commemorate her on the Sunday after 16 July, this year the 21 July, to ensure the event takes place on a public holiday.