Water sports such as sailing, swimming, diving, windsurfing and kayaking are particularly popular in places like Ibiza. The island offers numerous possibilities to enjoy these activities in prime locations chosen by professionals, tourists and residents for unique and healthy experiences.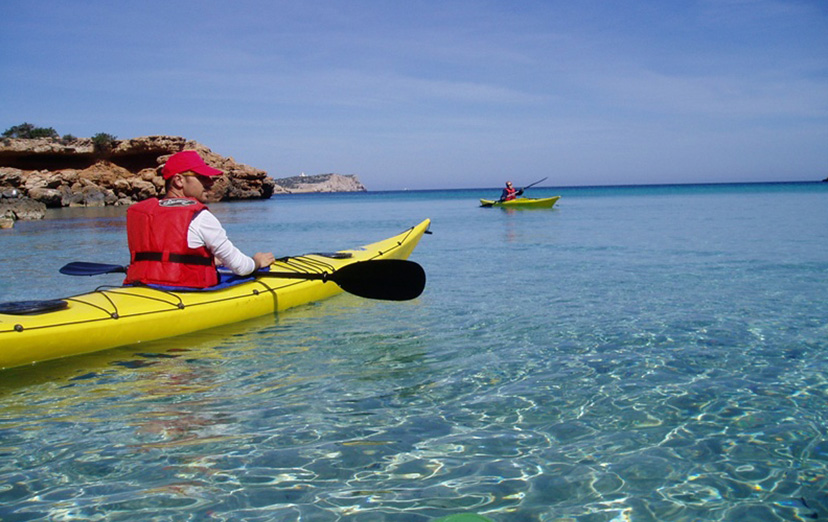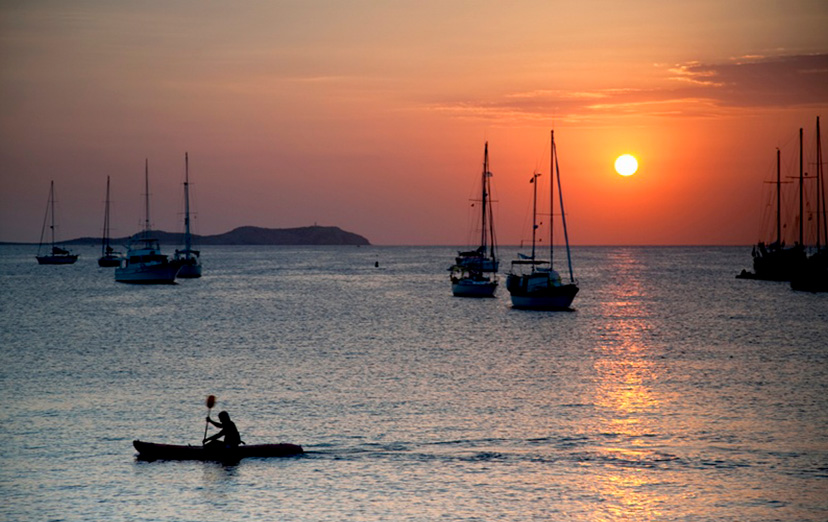 Kayaking, for example, can be enjoyed all year round and allows you to discover otherwise inaccessible coves, cliffs, caves or remote islets, as well as to go on family outings. This type of sports canoe is the favourite choice for those who want to enjoy a low-risk water sport suitable for everyone.
There are many routes available that can be experienced at sunrise, noon or sunset. Of all the numerous routes available, we propose two kayak trips, one low level and one intermediate level, which pass through some of the most beautiful spots on the island.
Es Portitxol de Portinatx – Moscarter Lighthouse route
This route, located in the municipality of Sant Joan de Labritja, is one of the simplest and most popular trips, as it is short enough to be enjoyed with the whole family.
Es Portitxol de Portinatx is an isolated cove of breath-taking beauty, thanks to its crystal-clear waters and surrounding cliffs and pine woods. The route sets out along the cliffs as far as the islet of Sa Guardiola, which is just a few metres away and where there is a beautiful cave.
From here, there are two options. You can either go around the islet or you can cross the strait, which is too narrow for a small boat, but which can be crossed by kayak. The route then continues to the right, along a cliff, until the Moscarter lighthouse comes into view, which will be the point of arrival. This lighthouse is the tallest in the Balearic Islands and stands out for its beauty and its distinctive black spiral strip.
To return to Es Portitxol de Portinatx you have to follow the same route in reverse.
Cala Carbó – Es Vedrà and Es Vedranell route
The Cala Carbó – Es Vedrà and Es Vedranell trip is one of the most popular routes, as it allows you to see the two most magical islets of Ibiza that lie to the southwest of the island. This route, which is classified as intermediate level, takes place in protected territory, so special care must be taken to preserve it and to find out about the activities that are permitted.
The trip sets out from the beach of Cala Carbó and borders the coast to the left, the first objective being to reach Punta de l'Oliva. On the way, the first thing you pass is Cala Truja, a small pebbly beach. From here, you continue rowing as far as Cap Blanc, which has protruding rocks very near the surface, so you must be very careful not to run aground or damage the boat. You then reach the Racó des Mataret, a pebbly beach where you can stop to rest and get your breath back.
At Punta de l'Oliva you cross the islet of Es Vedranell, a rugged uninhabited islet with a curious horseshoe shape. Afterwards, you will border this island, leaving it on your right, to enter a small hidden bay that serves as a harbour for boats. The trip then continues towards the larger islet of Es Vedrà.
The impressive islet of Es Vedrà, which has a unique shape and colossal size, is protected due to its high ecological value. As a curiosity, it is worth mentioning that the only mammals that live on this island are around fifty goats.
To return to Cala Carbó it is necessary to border the islet of Es Vedrá.
Before starting on any of these routes it is essential to have comfortable clothes, made of lycra or other waterproof material, sunscreen, water shoes, a waterproof bag, a raincoat, drinking water and some food.
However, remember that these sections are in protected or environmentally sensitive areas, so to make the excursion perfect, no waste should be left behind.