Can Pau is one of the most famous restaurants in Ibiza where European kings, singers, actors and celebrities from every walk of life have dined, and its secret has always been in equal parts, its menu, serving the best Mediterranean dishes and its discretion ensuring that whoever eats there will feel completely at home and at ease.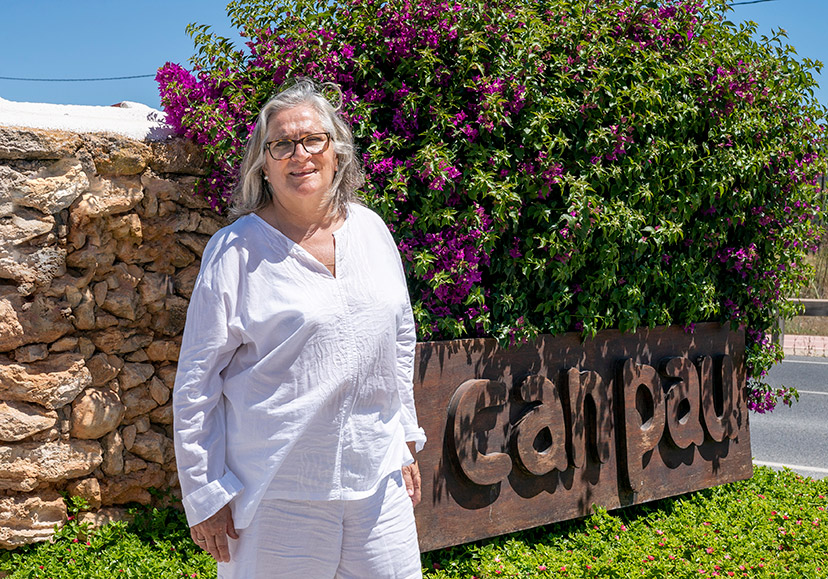 The name comes from the surname of its owner, Alba Pau, although curiously enough this typical country house in Santa Gertrudis de Fruitera was once home to the local "home de pau" (justice of the peace), so peace and tranquillity has always reigned within its walls.
Alba Pau's days are marked by three essential pillars: her family, her restaurant and good causes. In fact, she herself says that her life would "be pointless without them," as love and friendship are her philosophy in life.
Alba Pau is a third generation cook, she was born in Banyoles (Catalonia) but considers herself to be Ibizan by adoption, because for the last 47 years she has been working her special magic at her restaurant. With this long career behind her, Alba Pau has not let a pandemic put a stop to her activities, and despite the extreme situation and the world crisis of recent months, her restaurant has kept the fire burning on the kitchen stoves, distributing her traditional meals, made with fresh and varied products, to her regular clients. In fact, she admits that "we had to get permission from the Consell d'Eivissa to deliver food to people's homes".
The endive salad; cannelloni; natural foie gras, market garden salad, snails Lolita style, L'Escala anchovies, with crostes – a type of crouton – and Ibizan tomatoes, roast goat shoulder or tallat de bou a la brassa are just some of the many star dishes that this top class restauranteur recommends "you must try if you come to eat with us". Because in Can Pau if there are going to be any changes they will be made over time and very slowly. "Since my parents' time to my generation, we have only changed seven dishes, and from my generation to my children's not a lot more", Alba Pau assures us, affirming that "our guests are faithful to our true essence and to our dishes and they are the ones we trust in, if we plan on changing anything in the kitchen". This restaurant also has its indispensable recipes which are served winter or summer alike, such as farmyard chicken soup or their cannelloni.
"I took over from my father Narciso who was the life and soul of this restaurant and now it is Quim, the most sociable and easy going of my three sons, and it is he who will replace me" explains Alba Pau, who adds that her other son Jordi has trained in some of the best kitchens in the country, and is a graduate of the "Basque Culinary Centre" in San Sebastián with Juan Mari Arzak as his mentor ever since he started out, and now he in turn has become the chef at Can Pau.
According to Alba Pau, this summer season will be different in the best possible way: "before, no one had time for anything and now people stop and breathe and they seem to enjoy the little pleasures in life, they are more interested in doing things well and going back to the old ways, when we all used to actually look at each other and ask how we were".
Alba Pau is very involved with social welfare projects and has a prominent role in charitable events of all kinds and she is a bastion of associations such as Apneef. This fighting spirit has led to Pacha becoming her home from home, as with Ricardo Urgell on board she has organised numerous events over a decade of charity work. She is currently active in running an association to combat child abuse.
"During the confinement I haven't stopped" she tells us with a smile "but actually it's because I'm just being a bit selfish as there is nothing I like more than being able to distribute food and help those who need it most as much as I can". "Over the last few months we have managed to raise 50,000 euros, donated by individuals and with help from the Joan Ribas Foundation in Barcelona, which we spent on food bought from supermarkets and delivered to families in need, aided by associations such as Apneef, Magna Pitiusa and Consciencia", she concludes.