"Nautical tourism" or "water sports" are safe bets for entertainment and fun this summer, given the restraints imposed by the COVID-19 health crisis, as these are open air activities and take place at sea. The island is a safe destination and its coastline is the most magical place to enjoy sports in the open air in an idyllic setting. It is no coincidence that Ibiza is one of the most popular holiday destinations in the world, where you can rock up and enjoy days of fun and leisure time in this "new normality"  in a place where there are endless opportunities for enjoying these hot summer months.
With Ibiza's beautiful tranquil waters and the caves and hidden corners of its many beaches, you can paddle surf, kayak, dive or sail with your friends or family, just some of the favourite activities for residents and tourists to the island to enjoy.
Standup paddleboarding (SUP) for every age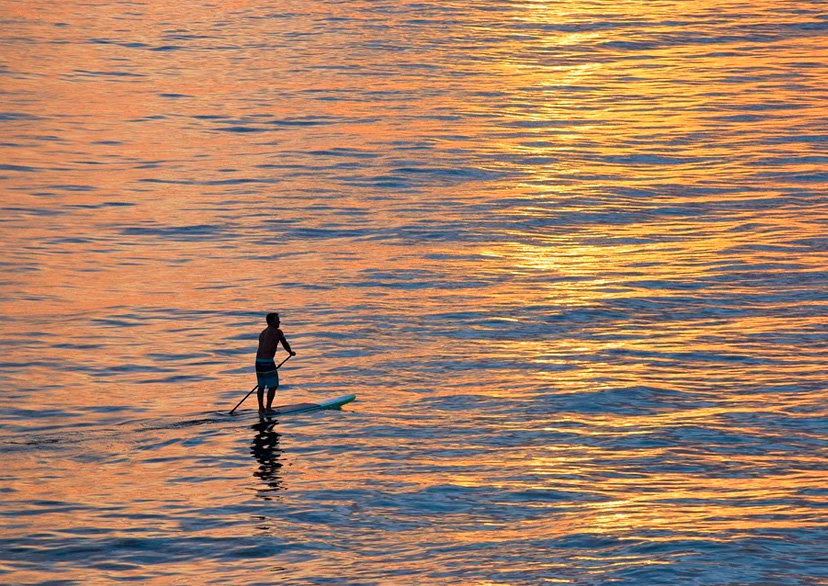 This sport, which has become increasingly popular in recent years, is played on a wider board which is more stable than the conventional surfboard,  where you move through the water by rowing, either standing up or on your knees. Standup paddleboarding (SUP) is best enjoyed early in the morning or at dusk, which is when the warm  thermals facilitate movement and there are fewer sailing craft about and so less waves created by their wake and the light and sound create just the right relaxing atmosphere.
It is also the ideal activity for anyone wishing to observe the marine flora and fauna of the island's deeper coastal waters. The perfect plan for doing some exercise either alone or with others, as it helps to strengthen your core and balance, relaxes your mind and above all you can have fun with your friends, partner or family on some of Ibiza's marvellous beaches.
Standup paddleboarding has other very attractive variations such as Yoga SUP or Pilates SUP. In these versions, you practise yoga or pilates balanced on a paddle board so that you can be transported out to sea on your board, in magical surroundings, with the added bonus of practising with concentration and effort.
Kayaking for the sporty types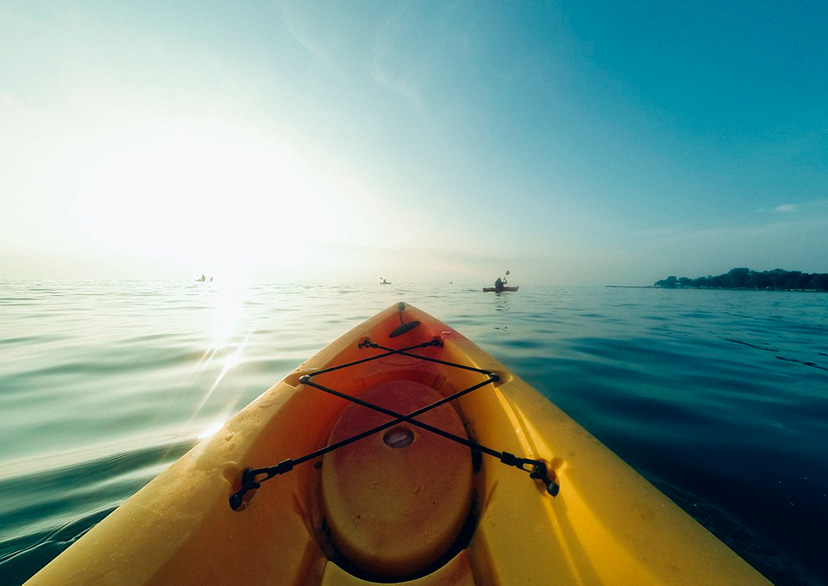 The special nature of Ibiza's beaches and sandy coves makes it an idyllic holiday destination, especially if you are interested in seagoing activities such as kayaking. This is a water sport that everyone can enjoy. It is a type of canoe with one to four rowers, ideal in summer or winter, and a clear favourite with anyone interested in a sport that will strengthen shoulders, arms and upper body in general.
The kayak is ideal for group day trips round the Ibizan coast. It is a good idea to take a few classes first or go on a few guided trips with an expert, who will rent you all the kit and equipment you need, and who can provide rowing tuition as an extra so that you can move faster and more efficiently,  and so travel further afield, making  the most of your day. The instructors can organise routes for you as well, so that you can discover isolated and little-known corners of the coast.
Snorkelling and diving
Diving into the crystalline waters of Ibiza, albeit snorkelling or with diving equipment, is usually a must for anyone who loves the island. An addictive plan for anyone wanting to escape the confines of the land, and discover another reality, hidden beneath the coastal waters. You need to practise these sports in the company of an expert, and diving with equipment also requires the appropriate qualifications.
Some of the best places for diving on the island are Cala Xarraca, Cala d'en Serra, Es Pou des Lleó, Cala Mestella, Punta Galera, Cala Gració and Cala Albarca.
Sailing without borders
There are innumerable possibilities for enjoying the sea, depending on your skills and preferences, but those who have their own vessel or the chance to rent one will discover one of the most amazing pleasures that the sea can offer us. Surfing the waves in any type of boat from any part of the Mediterranean Sea will always be a successful pastime.
You can also spend the day (and the night) in a boat and enjoy a full day on the water, practising sports or just relaxing, and if you want to take a kayak along, or your snorkelling equipment or paddle surf, you will have the chance to enjoy these activities in places that are normally more difficult to access through other ways of transport.