The figure of Christopher Columbus can be found in certain corners of the island that celebrate the navigator with new theories about the Ibizan origins of this famous conqueror and his links to the discovery of the New World.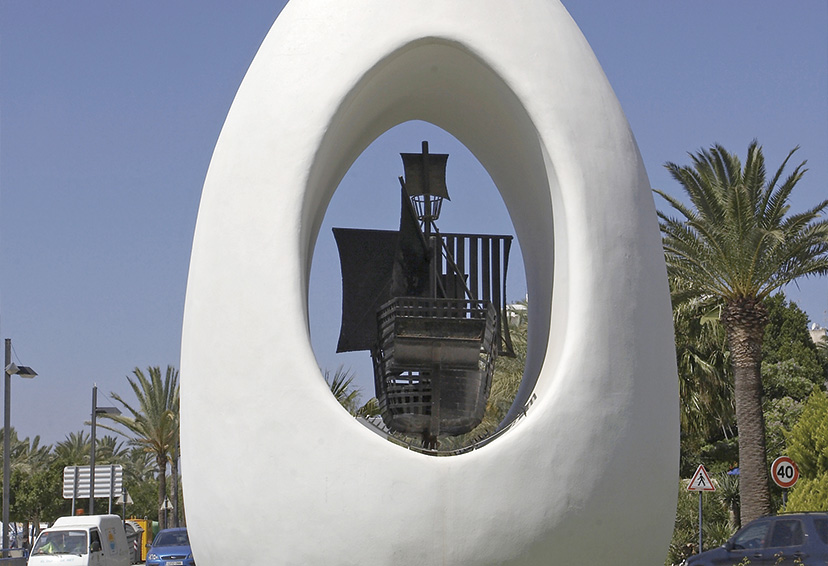 As an example, one of the most frequently photographed monuments of the island is a curious egg-shaped sculpture at the entrance to Sant Antoni de Portmany, in the centre of the roundabout leading to the town centre.
The sculpture known as the "Discovery of America" was inaugurated on 12 October 1992 coinciding with the 500th anniversary of Christopher Columbus' arrival in America. The work was created and designed by three renowned local artists, the sculptor Antonio Hormigo, the architect Julio Bauzá who designed the project and the replica of the ship, and Luis Ojeda who was responsible for the modelling.
This sculpture is popularly known as "the egg" due to its peculiar form, and the piece is six metres high and sculpted in reinforced concrete. Inside there is a replica of Columbus' ship, a 2.8 metre vessel fashioned in iron and with a prow that looks towards the American continent.
The egg alludes to a historical legend surrounding the navigator which holds that on his return from the Americas he claimed that he could hold an egg keeping it upright, which he actually achieved by slightly flattening its point. This anecdote gave rise to the famous "Columbus' egg" memorialised in the sculpture.
This is one of the places that recalls Christopher Columbus's presence on the island of Ibiza, and according to some theorists he was actually a native Ibizan. Many of the studies authored by Ibizan historian and journalist Nito Verdera claim Ibiza as Columbus' birthplace as revealed by a number of coincidences.
All the documentation, studies and details relating to the life of Christopher Columbus can be found in the centre of Dalt Vila, Ibiza's historic city centre which houses the museum dedicated to the figure and achievements of the famous navigator.
According to his theory of the discoverer's origins, Columbus named the settlements founded on the newly discovered lands with names from the Pityusic islands (Ibiza and Formentera), as in the case of the islets of Ses Margalides, Ses Formigues, Illetes, San Salvador, Cala Vedella, Cap de Barbaria, Punta Roja, and Cala Saona. Furthermore, according to Verdera's theories, the discoverer was not from Genoa as official history claims, and according to his studies he never wrote in Italian, but in Spanish using many Catalan words, some of which are typical of the island of Ibiza.
Whether this theory is true or not, the figure of Christopher Columbus and his history are ever present on the island of Ibiza.