One of the details that never escapes locals and visitors alike is the opulent and original jewellery worn with the typical traditional Ibizan costume, with women covering their chests with gold, silver and coral. These jewels are known collectively as emprendada and are accessories used to adorn the female traditional attire, one of the most iconic and beautiful components of traditional Ibizan folklore. Each piece that makes up the emprendada represents a token of family history, marriage dowries, mementos of a society with deep traditions and beliefs.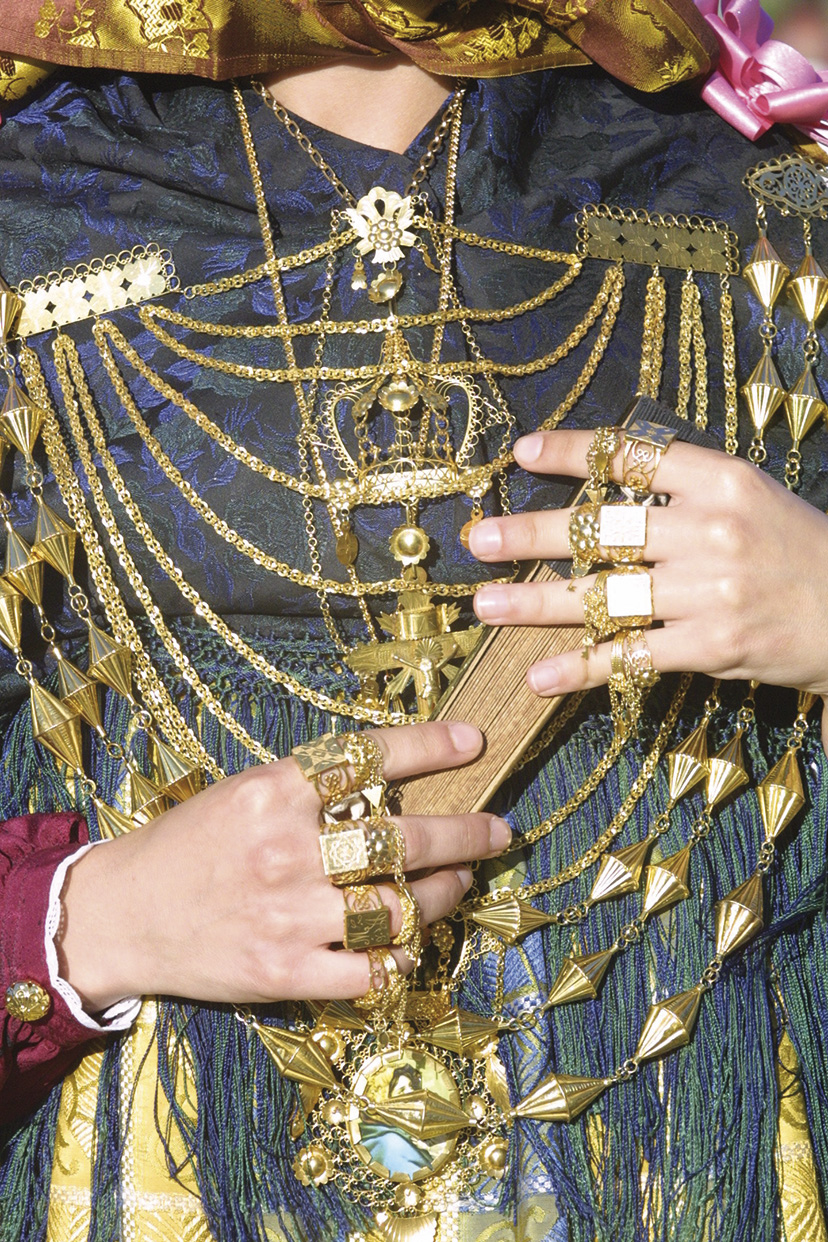 Girls received their first emprendada, generally a small cross and a chain, at their First Communion and the dowry was gradually added to over the years until the girl married. The higher the social status of the family, the more abundant and opulent the emprendada.
The most famous and valued empredada today are gold and filigree pieces of jewellery The most notable jewels to adorn the woman's breast are chains, lozenge-shaped necklaces, a huge cross, a crown, and Sa Joia, a richly ornamented relic dedicated to the Virgin, which is the most striking piece in the set of trinkets worn.
However, the oldest emprendadas are forged in silver and red coral and these are used to adorn the costume of the "gonella negra" which is also the most ancient of the costumes that are preserved today.
On an island where tradition and religion were important components of daily life, the silver and coral jewellery was also considered a symbol of protection for women. A belief that has gradually disappeared as new and more illustrious ideas and thought reached the island, which also led to changes in the Ibizan jewellery itself.
In addition to the necklaces, another important item of jewellery are the rings traditionally worn by the country women, all of which have different meanings and symbols. Traditionally, the fiancé was responsible for gifting the rings to his betrothed, and depending on the amounts that he offered, his wealth was disclosed, and some women could be wearing up to 24 rings on their hands.
As to the men, they also display a profusion of silver buttons with filigree adornments on their waistcoats and typical costumes.
Today, Ibizan jewellers are recovering the essential traits of this traditional jewellery adding some contemporary touches more attuned to the present day, a fact that has contributed to bringing this impressive traditional legacy to a wider public, rather than simply relegated to proud display on high days and holidays at processions, parades or popular ballades.