Ibiza has been home to some great artists, some born on the island and others attracted by its creative and cosmopolitan spirit, and therefore it is an ideal place for art and artists. One of the island's most prominent painters who was born there early in the 20th century is Antoni Marí Ribas, better known as "Portmany" Born into a humble family in Dalt Vila in 1906, Portmany was self-taught and began to paint at the age of 11 when he was apprenticed to the studio of the painter and interior decorator Antoni Palau.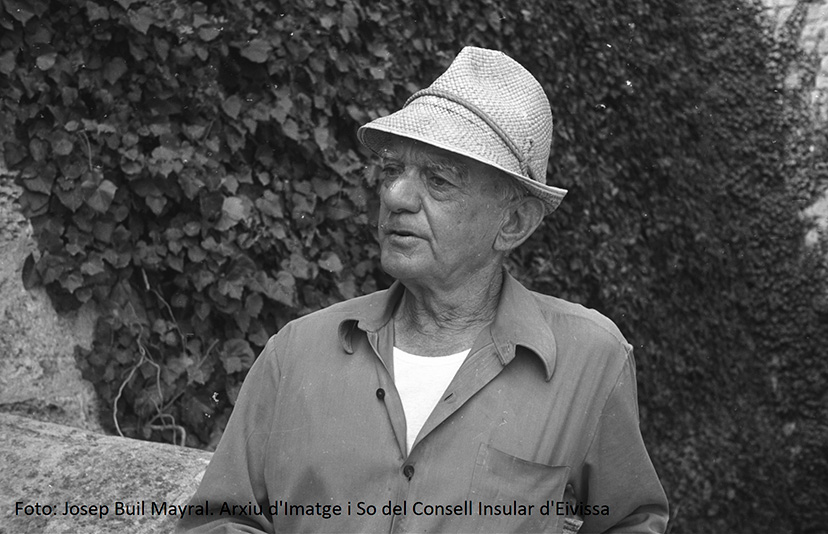 His training in Barcelona opened the doors to an urban world which, when he returned to Ibiza, he would capture in his paintings. Dressed in his iconic hat with his ink and artist's block, Portmany would spend most of his time sitting on the wall of Portal de Ses Taules, the entrance to Dalt Vila in Mercat Vell neighbourhood of Ibiza city, immortalising, with his characteristic sketchily drawn lines, the urban landscape of a community that was hovering between modernity with the arrival of the first tourists and its deeply rooted traditions.
His paintings are a succession of lively shaded shapes, forms that define the essence of a peaceful and tranquil life. A life led among Ibiza's city port, its lively market and its adjacent narrow streets. Sailors, fishermen, vendors, women shopping, … he was inspired by the day to day tasks of the city. And so Portmany became known as the sketch artist of Ibiza. His work was exhibited in Palma, Madrid, Ibiza, Barcelona, Geneva, London and Berlin, earning him international recognition.
Portmany's drawings are extremely expressive, filled with movement and life. Visitors interested in discovering the work of this artist who loved his island and his people, can visit the collection of Marí Ribas "Portmany" at the Ibiza Museum of Contemporary Art (known as MACE in Spanish) in Dalt Vila from April to September, Tuesday to Sunday from 10 am to 2 pm, and from Tuesday to Friday from 5 pm to 8 pm. During the months of July and August, visiting hours are restricted to evenings from 6 pm to 9 pm. From October to March, the visiting hours are Tuesday to Friday from 10 am to 4.30 pm and Saturdays and Sundays from 10 am to 2 pm.