Ibiza displays all the potential for what it has now become, namely, an established sporting destination, a place that both national and international competition organisers have realised is the ideal location for holding major sporting events outside the summer season, when autumn comes and the island regains its regular rhythms.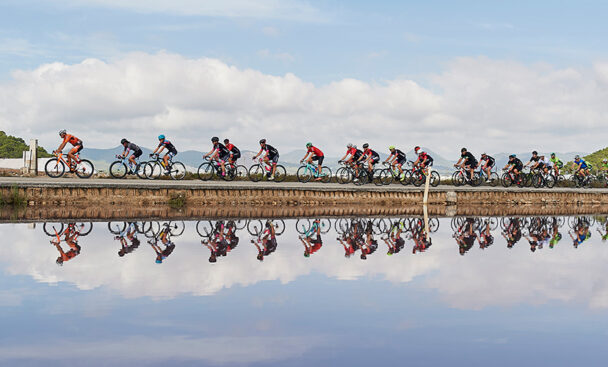 The qualities, capacity and potential of Ibiza as a unique and ideal location for holding competitive events of every kind are influenced by the climate, the landscape, the modern hotel facilities acknowledged worldwide, the frequency of air and sea travel connections, the excellent quality and hard work of sports clubs and organisers of sporting events… there are innumerable factors that make Ibiza a top sporting destination.
The strength of this combination of tourism and sport is evident and demonstrated by the fact that eight major events have been declared a "Tourist Attraction" and they are an example of organisational prowess with an impact on tourism and additional economic and social impact, with huge levels of participation: the Ibiza Marathon, the Salt Route, the Ibiza Mountain Bike Race, Ibiza Half Marathon, the Ibiza Campagnolo Cycling Tour, Ibiza Trail Marathon, Ibiza Half Triathlon and 3 Day Trail are just some of the events in the sporting calendar, mainly held in the spring and autumn.
In October, the Cycling Tour is held (8th and 9th), along with the Ibiza Trail Marathon (15th and 16th) and the Ibiza Half Triathlon (23rd), and the 3 Days Trail marks the start of December (2nd, 3rd and 4th December).
These events provide a truly comprehensive experience for those taking part, because as visitors, they can also enjoy the cuisine, the countryside and Ibizan culture. It's a perfect plan for people from all over the world to visit the island at any time, 365 days a year, associating their trip with family fun and healthy lifestyles.
This all makes the sporting calendar in Ibiza more interesting and attractive, and athletes and sporting types from all over the world will set a date in their agendas for these unmissable competitions organised and held on the island, and they will frequently return, having experienced the huge range of sports and sporting competitions available in Ibiza, and the excellent atmosphere, not to mention the tourist attractions of the island. Ibiza never fails to surprise, and increasingly, sports aficionados and competitors are choosing it as their favourite destination.