The recipe for ensalada pagesa is one of the dishes most commonly found on the island in summer with a salad containing products that come directly from the Ibizan market gardens. It has a special flavour that comes from the island's warm climate and the red earth from which the vegetables are dug, as the arid soil is ideal for some crops.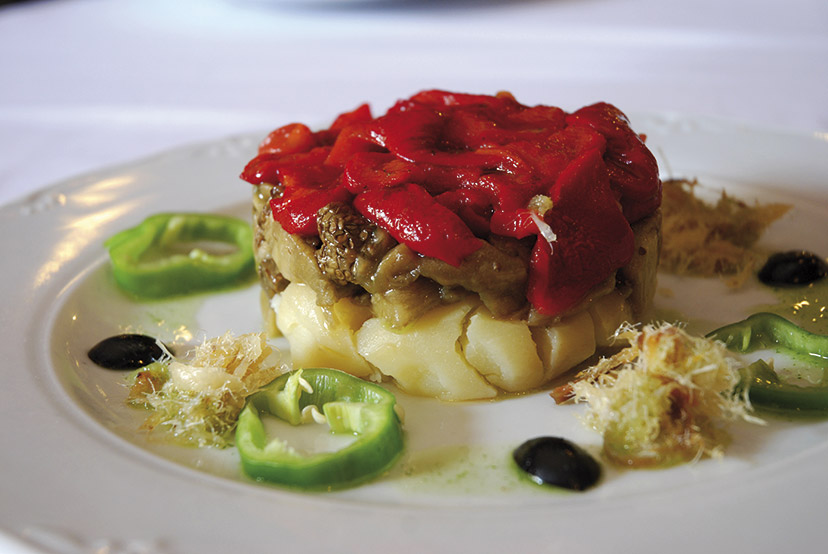 The ensalada pagesa or country salad has many variations, and the ingredients vary, with each home having a different way of making it, however, the authentic version must contain red potato, pebrera blanca– green pepper, ceba vermella – red onion, and tomato as these Ibizan products are the stars of this light and fresh salad that is perfect for summer days.
The red potato is yellow fleshed with a characteristic red skin, and is a traditional Ibizan variety that has been recovered. It is an essential ingredient of the ensalada pagesa having been boiled in its skin and then peeled. The potato is then added, but rather than cut it with a knife according to the traditional recipe, it should be divided with a fork, resulting in irregular shaped pieces in the dish.
Another typical ingredient is pebrera blanca, this is the pepper most commonly found on the island and it is a light green colour with thick flesh that is crunchy, sweet and refreshing making it ideal for eating raw. This ingredient should also be added to the salad without being cut, instead breaking it by hand so that in this way the product is better able to absorb the flavours of the other foods included in the recipe.
This dish of traditional Ibizan cuisine also contains ceba vermella, an onion variety that is typical to the island and which is distinguishable for its flattish shape and red outer skin. This is an extremely juicy onion as it contains a high percentage of water which at the same time means that it has a mild and sweet flavour.
In some homes and restaurants, the traditional recipe for ensalada pagesa also contains dried fish. In the olden days this food was not considered a delicacy; it was dried to conserve it, and was then roasted in a frying pan and subsequently added to several dishes such as ensalada pagesa.
These are the original ingredients that gave rise to this Ibizan salad which, although other ingredients are sometimes included, must include a good glug of Ibizan extra virgin olive oil, which has a Protected Geographical Indication, or PGI, to drizzle over the ensalada pagesa as a final touch. Bon appétit!