The sounds of drum, flute and castanets announce the start of the ball pagès, a traditional Ibizan dance featuring a couple, in which the man dances energetically around his partner executing great leaps while the woman's dance is a choreographed set of small steps and circular movements.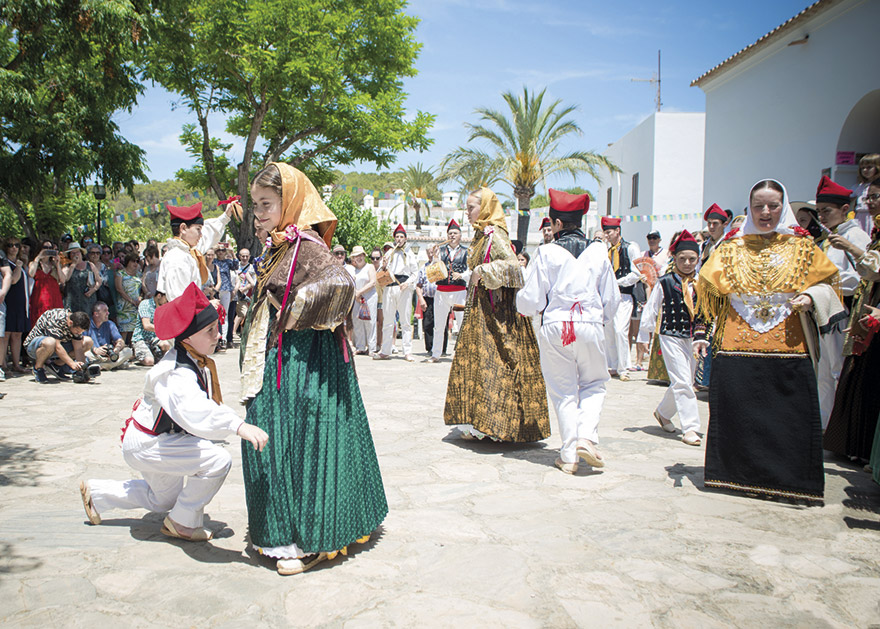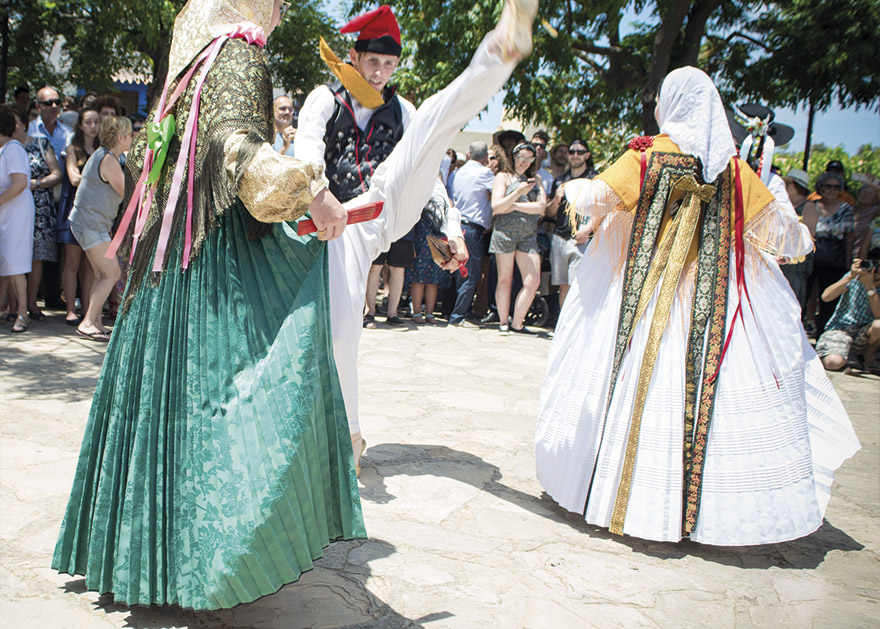 Today, this ancestral dance remains more alive than ever and thanks for this are due to the numerous ball pagès dance groups that thrive in different parts of the island.
The traditional Ibizan dance goes back to the 13th century and it was performed around the wells and water sources of the island's different villages in the summer, and especially in the countryside.
These days, the ball pagès can be seen and enjoyed in any traditional ceremony of importance on the island and, although its origins are unknown, experts point to both Catalan and Arab influences.
The dancers in the various ball pagès collas have their own costumes, and although there are times when costumes, dresses and jewellry are dispensed with in a natural and simple environment, most members of the collas or dance groups prefer to wear the traditional Ibizan apparel which is an essential part of this folk dance.
The men's costume consists of a red cummerbund, a white shirt and trousers and a red beret, along with a black waistcoat and a yellow handkerchief, while the women wear a skirt with several layers of petticoats and lace, a bodice and a lace handkerchief on their head, while on their feet they wear espardenyes and of course, no outfit is complete without the emprendada, a set of artisanal adornments and jewels which in the past enabled a woman to show off her social position, and which were usually fashioned in red coral and silver or gold.
The wells and fountains of the villages are a testament to this traditional ceremony.
Throughout the summer and also outside that season there are several wells and water sources on the island where the ball pagès is danced by the collas or groups with members of different generations dancing together, ensuring that the customs are preserved and passed down from parents to their children.
Some of the wells and fountains of Ibiza where this traditional dance is performed are: the Pou de Corona, the Pou des Escarabats, the Font de Peralta, the Pou de Benimussa, the Pou d'en Benet, Es Broll de Buscastell, the Font de Balàfia, the Pou de Labritja, the Pou d'Albarqueta and the Pou des Baladre.
In October dances are also performed at Pou d'en Gatzara, Pou d'en Micolau and Pou de Forada.
For more dates, information can be found at www.ballpages.cat