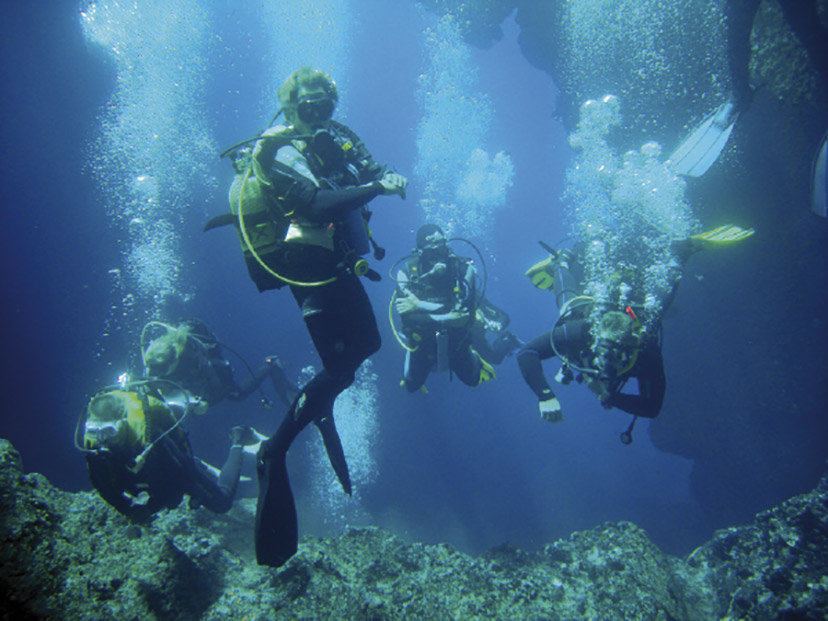 Ibiza is one of Europe's leading scuba-diving destinations. Surrounding meadows of the native seagrass posidonia were designated by UNESCO as a World Heritage site, and are the secret to the sparkling hue of Ibiza's waters, and the undersea ecosystems that teem with life and colour.
The characteristics of Ibiza's sea make it uniquely suited for maritime excursions, a market which legions of local diving schools cater to with courses and underwater dives. PADI, or Professional Association of Diving Instructors, has a dozen associated centres on the island, several of which have won critical acclaim.
In winter months, water temperatures stay between 20º and 25º C, just right for a bit undersea fun. From 10 metres below, divers are treated to crystal-clear colours and marine fauna.
One of the top spots to check out is the sea floor that encircles Es Vedrà. Off the coast of the Sant Josep de sa Talaia municipality, this impressive islet, surrounded by cliff sides, is also a nature preserve. It is home to stunning sea fans and "gorgonias," deep burgundy animals found at depths some fifty metres down the sides of the islet.
Another set of small islands that dot the strait separating Eivissa and Formentera, es Malvins are a required visit for diving fans. Nearby posidonia meadows, particularly in the north, are home to species like dreamfish, saddled seabream, breams and amberjacks, while groupers, octopus and even scorpionfish can be found further south. Many divers wait for the wind cover provided by night to set out on excursions in the area.
South of the Ibiza port, s'Esponja is another noted treasure whose cliff sides support life that often goes unseen. The depths of the islet's southern face are endowed with large rocks occupied by slipper lobster, scorpionfish, anemones and madrepore coral, also known as sea sponges.
We also recommend one of Ibiza's most secluded outposts, the island of Sa Conillera. Holding watch on the western seaboard near Sant Antoni de Portmany, Sa Conillera is actually part of the municipality of Sant Josep de sa Talaia. The smallest of all the Pityusic islets, this magical place is also totally uninhabited, and supports nearby corral reefs and a bird reserve.
Ibiza is hemmed in on all sides by small islands, each with its unique qualities and hidden beauty. The dolphins, sea tortoises, seahorses and great diversity of fish that inhabit their coasts are immensely photogenic.
If you come visit, remember to protect and look after our natural spaces so that we can all continue enjoying this stretch of paradise.